Background Material
Excerpts from DEPARTMENT OF THE NAVY -- NAVAL HISTORICAL CENTER
The Navy's bitter experience with Japanese kamikaze suicide planes1 late in World War II had generated intense interest in the development of radar systems for long-range detection of low-flying aircraft. Radar picket destroyers had been deployed, but it was concluded that airborne surveillance platforms were necessary for extended detection ranges.
Typhoons also affected operations supporting the invasion of the Philippines and bombing of Japanese air fields on Kyushu. Several destroyers were capsized with very heavy loss of life, a heavy cruiser lost its bow section and four aircraft carriers were heavily damaged. These are just a couple of weather related instances that affected the Navy.
In February 1944, the Navy greatly accelerated Project Cadillac, which was initiated in 1942, for the development of airborne early warning radar thereby taking the lead in this vital technology. The Radiation Laboratory at the Massachusetts Institute of Technology (MIT) worked closely with the Naval Research Laboratory (NRL) in developing an airborne radar and radio link to transmit radar video to displays in a ship's Combat Information Center (CIC). This system was installed in March of 1944 on approximately 40 modified TBM Avenger torpedo bombers. This system proved successful and was able to detect approaching aircraft out beyond 100 miles, however the aircraft could not venture far from the fleet without disrupting the radio link signal. This led to Project Cadillac II, its purpose was to produce a flying command center which could carry several CIC operators. A modified B-17G Flying Fortress was the chosen airframe by Project Cadillac II. These modified B-17's became the PB-1W . The results of this work was not of great significance in WWII because the atomic bombs brought the war to an early end. The U.S. invasion of Japan planned for 1946 was not necessary, the urgency for future development of many projects was gone and were either scrapped or given a much lower priority.
Pioneer Squadrons
This "pioneer" listing is limited to those multi-engine land based squadrons who were assigned, or eventually assigned, to the west coast or Pacific basin. These squadrons, though not necessarily in the VW-1 lineage, made significant contributions to the outstanding service and safety record of VW-1. The lineage of VW-1 is understood by many to begin at the 1948 version of VPW-1, however this site goes back to the beginning of the PB-1W in 1946.
The following is a list of various squadron designations used by the Navy for the Development, Weather and Reconnaissance Squadrons and the years that they were used. Source: Naval Historical Center.

Acronym in use:-- Full Squadron Designation: -- General Time frame:

VC:-- Composite Squadron:-- 1943-1945, 1948-1956

VJ:-- Weather Squadron OR Weather Reconnaissance Squadron:-- 1952-1953

VP:-- Patrol Squadron:-- 1924-1944, 1946 1948-present

VP-HL:-- Heavy Patrol Squadron (landplane):-- 1946-1948

VPB:-- Patrol Bombing Squadron:-- 1944-1946

VPM:-- Meteorological Squadron:-- 1946-1947

VPW:-- Weather Reconnaissance Squadron:-- 1945-1948

VPW:-- Air Early Warning Squadron:-- 1948

VW:-- Air Early Warning Squadron OR Airborne Early Warning Squadron OR Fleet Early Warning Squadron:-- 1952-1971

VW:-- Weather Reconnaissance Squadron OR Fleet Weather Reconnaissance Squadron:-- 1967-1975

VX:-- Experimental and Development Squadron OR Operational Development Squadron OR Air Operational Development Squadron OR Air Development Squadron:-- 1946-1968

VX:-- Air Test and Evaluation Squadron:-- 1969-present

VQ:-- Fleet Air Reconnaissance Squadron:-- 1961-present
"VPB-101". was established on 20, July 1945 at NAS Willow Grove, PA. Received its first "PB-1". on 09 September 1945. Moved to Floyd Bennett Field Brooklyn, NY. on 05 February 1946. The squadron received its first "PB-1W" on Feb. 5, 1946. Redesignated "VX-4" on 15 May 1946 at Floyd Bennett Field.
VPW-1 was established 15 November 1945 at "Camp Kearney, CA." It initially consisted of 14 PB4Y-2M aircraft and 15 flight crews, performing its first weather reconnaissance mission in May 1946. The squadron maintained detachments at Peleliu and Kwajalein. "VPW-1" was redesignated "VPM-1" 15 November 1946, at NAS Agana, Guam.

VPW-2 was established on 01 December 1945 at "Camp Kearney, CA.," It initially consisted of 14 PB4Y-2M aircraft. VPW-2 was based at Agana Guam with detachments at Sangley Point and Samar in the Philippine Islands, and Yonabaru Okinawa. It was deactivated on 30 November 1946.

VPM-1 was established on 15 November 1946, assuming the responsiblities previously assigned to VPW-1 and VPW-2. The squadron was deactivated on 06 December 1947. Nick Name: Typhoon Chasers Tail Code: WD.
After VPM-1 was deactivated the other Patrol Squadrons on Guam were assigned weather reconnaissance in addition to their primary mission. One weather plane was transferred to each of these squadrons with an experienced flight crew in weather reconnaissance to aid in typhoon flying. Heavy land Plane Squadron Two (VP-HL-2) was one of these squadrons.
"VX-4" was established on 15 May 1946 at Floyd Bennett Field, Brooklyn, NY.
Moved to NAS Quonset Point, RI. on 05 September 1946 with eight "PB-1W" and one "PB-1" aircraft.
Moved to NAS Patuxent River MD. on 20 March 1948 with eleven "PB-1W" and one "PB-1" aircraft.
(Four of VX-4's "PB-1W's" were transferred to the west coast in 1948 to become VPW-1).
VX-4 was redesignated as VW-2 on 18 June 1952 at NAS Patuxent River, Maryland.
"VPW-1" was reestablished on 01 April 1948 at NAS Quonset Pt., RI. and immediately transfered to Ream Field, San Ysidro, CA. with the four "PB-1W's" received from VX-4. VPW-1 was redesignated VP-51 on 01 September 1948.
VP-51 was reestablished (this was the 3rd. iteration of this designation) on 01 September 1948 at Ream Field, San Ysidro, CA. with six "PB-1W" & an unknown number of PB4Y-2's. VP-51 was deactivated on 01 February 1950 and its two remaining "PB-1W's" were transferred to VX-4 Detachment and based at NAAS Miramar, San Diego, CA.
"VX-4 Detachment" was established on 02 February 1950 at NAAS Miramar, CA. deactivated on 31 March 1950, aircraft transferred to VC-11 Detachment.
"VC-11 Detachment" was established on 31 March 1950 at NAAS Miramar, CA. with the three "PB-1W's" from VX-4 Detachment, plus one additional PB-1W. Deactivated on 18, June 1952. Aircraft and personnel were transferred to VW-1 .
These squadrons were established and deactivated according to budgetary allotments following the war. They had similar types of missions involving Airborne Early Warning (AEW), Weather Reconnaissance, Anti-submarine Warfare (ASW), Search and Rescue (SAR).
Lessons learned from flying the "PB-1W" and PB4Y-2 were applied to development of the Lockheed PO-1W, a redesigned Lockheed 749 Constellation airliner later redesignated as WV-1, which first flew in 1949, The data gathered from the WV-1 was applied to the highly successful Lockheed WV-2 based on the famous L-1049G Super Constellation, which was delivered to the Navy in 1954.
VW-1
VJ-1/VW-3
"VJ-1"
flying the
PB4Y-2
operated as a
typhoon reconnaissance squadron
from
1952
to 1953 out of NAS Agana and redesignated as VW-3 in 1953. VW-3 flew the PB4Y-2, transitioning to the P2V, then the WV-3 and finally the WV-2 aircraft.
VW-1/VW-3 Det. "A"
On 13 May 1953 a special projects unit flying the
Martin P4M-1Q
aircraft was assigned to VW-1, for administrative purposes, as Detachment Alpha or Det. "A". This detachment operated mostly out of the Philippine Islands, Okinawa or Japan. On 01 June 1954 VW-1 Det. "A" was reassigned to VW-3 as Det "A", again for administrative purposes, because VW-3 was home ported at NAS Agana Guam, which was geographically closer to the special projects unit or VW-3 Det "A" operational area.
On 01 June 1955 VW-3 Det "A" was established as VQ-1. As of 2009, VQ-1 is still in operation.
Taiwan Straits patrols in 1957
The crews, of BuNo 131390 (TE-4) and BuNo. 131392 (TE-5), were awarded the China Service ribbons for their participation in the Tachen Islands of Matsu and Quemoy evacuation.
TE-5 was jumped by MIGs but escaped by flying into the clouds.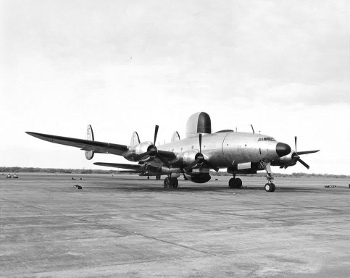 Dec. 1952. 1st Willie Victor (WV-1) Buno 124438 as TE-1 for training at NAS Barbers Point Territory of Hawaii. Notice the small lower radom and the VHF vice UHF antenneas.
From the scrap book of Mrs. Carolyn R. Anderson, Wife of the late Capt. Fernald P. Anderson first C.O. of VW-1. Sent by their son Col. William (Bill) Anderson USMC Ret..
VW-1 was established 18 Jun 1952 at Naval Air Station Barbers Point, Territory of Hawaii, as an out-growth of VC-11's Detachment. This detachment departed NAAS Miramar, California with four PB-1W aircraft on 5 June and remained overnight at NAS Alameda California. It then departed from Oakland International Airport at 30 minute intervals during the evening of 6 June, arriving at NAS Barbers Point on the morning of 7 June 1952.
Constantly under evaluation after WWII, Airborne Early Warning operations proved to be a vital necessity to the security of the United States, VW-1 helped prove this defensive theory.
VW-1's first aircraft was the PB-1W. In December 1952 VW-1 received their first Lockheed Constellation initially designated as PO-1W, later redesignated as WV-1, BuNo 124438 the radar version of the civilian Lockheed Constellation 749 or "baby connie." A permanent detachment of VW-1 was established in the Western Pacific providing the Seventh Fleet with heavy airborne early warning coverage. This detachment operated out of bases in the Philippines, Okinawa and Japan. In November 1952 one VW-1 aircraft and crew with support personnel was attached to the Atomic Energy Commission in support of a bomb test in the Pacific2. VW-1 also participated in the Korean War in 1953, detachment personnel were awarded the Navy Unit Commendation. VW-1 aircrews flew missions in the Formosan Straits to cover the evacuation of the Tachen Islands of Matsu and Quemoy in 1955" and Taiwan Straits patrols in 1957.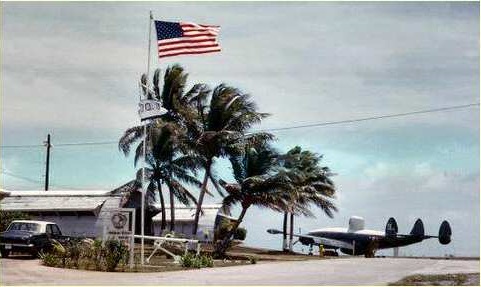 TE-3 on the ramp as the ready aircraft. The VW-1 CO's office is in the forground at NAS Agana Guam
Photo courtesy Hank Hough LTjg. TE-3, 7; 64-66.
VW-1 received its first WV-2 (later redesignated as EC-121) in April 1954 and had a complement of 12 aircraft by March of 1955. The last "PB-1W" was transferred to "Litchfield Park" in February of 1955 thus completing the transition from the PB-1W to the WV-2.
In July of 1957, VW-1 moved its homeport from Naval Air Station Barbers Point, Hawaii to Naval Air Station Agana, Guam, Mariana Islands,3 where the Commanding Officer assumed the additional duties of Commander Fleet Air Detachment, Guam. Guam had been chosen as the squadron's base of operations because of its strategic location in the Western Pacific for airborne early warning coverage for the Seventh Fleet.
Because VW-1 was a unit of the Seventh Fleet, the designation of Commander Task Group 70.3 was also assigned to the Commanding Officer, a duty later rotated to the CO's of VW-1, VAP-61 & VQ-3.
In July of 1960 VW-1 absorbed many of the aircraft and men of VW-3, which was deactivated. For several months VW-1 had twelve WV-2 aircraft (BuNo's 145924 through 145935) and one R-7V BuNo 131654.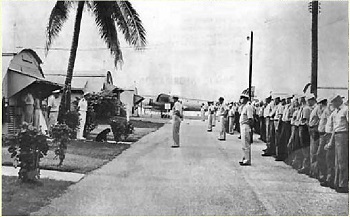 VW-1 Morning Quarters about 1961. Looking South East down the service road in the squadron office area. VW-1 operated from thes quonset huts when it first arrived at NAS Agana in July of 1957 until May 26th 1967 when the squadron moved into the hanger on the East side of the runway.
If you look closely at the enlarged picture you can see Bruno the squadron mascot at parade rest just in front of the Duty Officer.
Photo provided, nearly simultaneously, by Ed Kane AT-2 50-61 TE-3, & TE-00 and Earles McCaul ATW1-AT1 66-68 TE-1, 2, 9.
In July 1961, the squadron was "additionally tasked with the" responsibility for weather reconnaissance from the International Dateline, west to the Malaysian Peninsula and from the equator north. The squadron received six meteorologists and eighteen aerographers; meteorological equipment was installed on the aircraft; and during 1961 the squadron flew over 1,000 hours making 85 geographic locations or "fixes" on tropical storms and typhoons. These accomplishments brought about VW-1 becoming known as the "Typhoon Trackers."
By April of 1962 VW-1 was reduced to seven EC-121's and one C-121 due to transfers of aircraft and operated with these aircraft until the middle of 1966 when more aircraft were received. Also on 18 September 1962 the convoluted Naval aircraft designation system was changed by BUWEPSINST 13100.7 so that the WV-2 aircraft was designated as EC-121, the R-7V designation was changed to C-121.
The
Lockheed's "Warning Star,"
was a radar-configured version of the civilian Super Constellation. Powered by four R3350-42 18 cylinder piston engines which could develop 3400 horse power each. The Warning Star could remain aloft for more then 20 hours and had a range of well over 3,500 nautical miles. It carried six tons of sensitive electronic detection equipment, including two different radars, electronic counter-measures equipment, radio and radar relay equipment and
numerous weather-data collection instruments.
The "Warning Star" was both an airborne meteorological station and an effective radar platform with a well-equipped combat information center.
Weather flights usually lasted 12 - 16 hours during which the aircraft obtains two fixes, 0900Z and 1500Z. The first fix was normally made during a low level penetration at an altitude of 1500 feet or below. After the fix, the aircraft climbs in the eye of the storm to the "700 millibar level" making an ascent sounding during the climb. For the next 6 hours the aircraft circumnavigates the storm, in a box or triangular pattern, determining wind velocity and direction and making dropsonde observations. The second fix was usually made at the "700 millibar level" with the use of radar.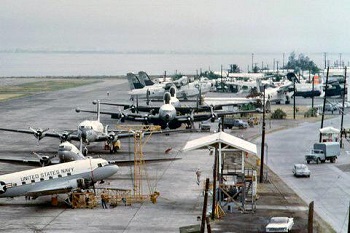 Picture taken from the Sangley Pt. control tower showing two of VW-1's EC-121 and other base aircraft. Manila Bay is in the background, the city of Manila is on the horizon across the bay.
Photo Courtesy Hank Hough, LTjg, CICO TE-3, 1964-'66.
During the latter 1960's, VW-1's aircraft electronic equipment was upgraded by installing Doppler navigation systems and an improved radar altimeter.x The Meteorologists and Aerographers stations had bubble observation windows installed on each side in the aft end of the CIC section of the aircraft. Other modifications included improved transponder decoding equipment.
Following the Gulf of Tonkin incident in August of 1964, Commander Seventh Fleet imposed additional requirements upon AEWRON ONE for daily night-time early warning in support of combat operations in Southeast Asia. Once again a permanent detachment was maintained in the Western Pacific to discharge these requirements, VW-1 operated out of Sangley Pt. or Cubi Pt. from 1964 to 1967. Through these years the detachment consisted of 2 aircraft, flying 14 - 15 hour missions on alternate nights providing low bogey detection, "MIDDLE MAN", "BELL HOP", airborne intercept control, search and rescue coordination and weather observations from 2300H to 0600H. The mission was generally at 20°N latitude on an East West track between Hainan Island and the coast of North Viet-Nam.x Occasionally these missions of working directly with the fleet would be cancelled and changed to tracking a typhoon.x Each crew would be rotated back to Guam approximately every 14 days, usually to perform the squadrons primary mission of typhoon reconnaissance.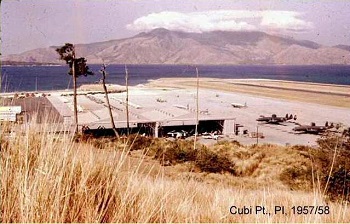 View of NAS Cubi Pt. flight line from top of the hill near the barracks. Two of VW-1's aircraft are parked on the tarmac.
Photo: Robert Fleming AE-2 VW-1 57-58.
During almost seven years of VW-1's participation in the Viet-Nam war the squadron flew approximately 35% of the time performing its primary mission of typhoon reconnaissance.x The balance was flown in performing its secondary mission of AEW support for the Seventh Fleet or SAR, Training etc. The flight crews performed the majority of the maintenance and support work on their aircraft. The flight engineers were actively involved in refueling, the engine mechanics kept the engines in top condition. If an engine change was required many of the backend crew would be involved performing much of the less technical aspects of the work, positioning work stands, cleaning up, bringing chow to the work area, ordering parts, etc. If the radar techs and radiomen couldn't repair the equipment in flight, they would haul it into the shop, make the necessary repairs and then reinstall and check it out in the aircraft. All this was done at the completion of each mission so that the aircraft was ready to go again. The squadrons R-7V (C-121) was not only involved in support of the squadrons needs but also transporting parts and personnel of other commands to the required location. On at least one occasion the R-7V and crew performed an investigative weather flight. The R-7V could also be made suitable for flag officers transportation by the installation of a VIP kit.
Early 1965 brought additional responsibilities to AEWRON ONE. It was at this time that the training and maintenance facilities associated with the former Pacific Barrier Squadrons at NAS Barbers Point were deactivated. VW-1 thus fell heir to the responsibilities for the maintenance training of ground personnel and the flight training of pilots and aircrewmen for Western Pacific users of the C-121. In order to fulfill these myriad requirements, additional crews were formed, flying more than 10,000 hours in 1965. It was also in 1965 that the squadron established a record of 239 straight storm "fixes" without a "bust".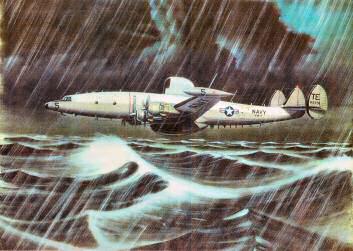 Flight crews were provided
pictures
that showed the appearance of the sea surface at various wind speeds. The appearance of the ocean surface with 100 knots of wind from an altitude of 300 feet is truly an impressive and awesome sight. Photo of Japanesse Silk Painting.
In 1966 the squadron celebrated the accumulation of 100,000 accident-free flying hours. In recognition of these accomplishments, the squadron has consistently received the Commander Naval Air Forces United States Pacific Fleet Quarterly Aviation Safety Award. In September of 1967, the squadron compiled a record of 1,128 flying hours. Also in 1967, the squadron made 356 "fixes" on tropical storms and typhoons. On 17 Oct. 1967 VW-1 had 5 aircraft airborne simultaneously flying weather missions. As a result of these and other outstanding accomplishments, the Secretary of the Navy awarded the squadron the Meritorious Unit Commendation.
On 26 May 1967 moved from the quonset huts on the west side of NAS Agana to the hanger on the east side of the runway.x On 18 January 1967 VW-1 established a detachment at Chu Lai, RVN, later moving to Da Nang, RVN. Once the detachment was established in Viet-Nam VW-1 was able to increase its "on station time" from 6 hours to 12 hours of AEW coverage for the fleet because of the reduced transport time. x y
The morale of VW-1 personnel was very high in spite of the heavy work load as evidenced by the re-enlistment rate of 67% for men completing their first enlistment. The average AIRPAC re-enlistment rate at the time was 14%.x
During the time period of 16 - 23 November 1967 VW-1 flew around the clock SAR operations searching for crewmembers of a lost VAP-61 A-3 "Skywarrior" near Guam.x
Between 1968 and 1970, additional tasking arrived, involving the establishment of a detachment in California for weather reconnaissance operations along the western coast of the Americas; support of operations for the Apollo space missions and NASA support in the Pacific; and special operations and data gathering for various agencies associated with oceanographic research. In 1970, VW-1 swelled to a peak in both personnel and aircraft: 125 officers, 850 enlisted personnel, 9 flight crews and 10 aircraft: one C-121J, seven WC-121N's and two EC-121K's.x During this time period, VW-1 came under the operational control of Task Force 72. Fleet Air Detachment, Guam, becoming Task Group 72.5, VW-1 becoming Task Unit 72.5.1 and the Squadron's Viet-Nam Detachment became Task Element 72.5.1.1.
As a leader in airborne early warning since its inception, VW-1 received much praise. Letters of "Well Done" were typically received from Fleet Weather Central/Joint Typhoon Warning Center, Guam; Commander Seventh Fleet; Commander-In-Chief Pacific Fleet; the Commanding General 313th Air Division (PACAF); and the Chief of Naval Operations.
Incidents
VW-1's first flight incident occurred in 1964 while its C-121J Super Constellation was en route from Agana, Guam, to Japan with passengers aboard. During the approach for landing a cockpit indicator showed that the nose wheel was not locked in the down position. A very successful landing was made by landing on the main mounts and then shifting the aircrafts center of gravity by moving passengers to the rear of the aircraft making it "tail heavy". The aircraft came to rest on the runway with the tail end on the ground. There were no injuries and minor damage to the aircraft. The aircraft was back in service within a couple weeks.
Another incident occurred when Crew 4 was flying TE-2 into Typhoon Judy on 25 October 1968 when the starboard wing tip tank and several feet of the wing was ripped loose during penetration of the storm.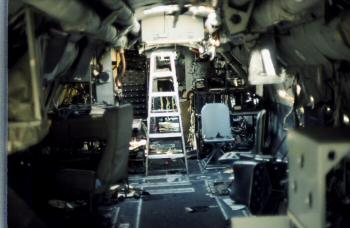 TE-07 Stripped of electronic equipment. Looking forward from middle of CIC section.
Photo: Roy Wiggs VW-1 70-71.
TE-7 BuNo 145928 was stricken from the records in 1970 because of a ground incident at Atsugi Japan, when the right main landing gear retracted while starting an engine for a ground run up after completion of aircraft maintenance. The right wing hit the concrete ramp rupturing the tip and 3A tanks spilling the fuel onto the ramp. As the right wing struck the ground, the left wing was on an upward arc and snapped off the tip tank as it came to the top of the arc. This also ruptured the 2A tank. Luckily the 2,000 + gallons of spilled fuel did not ignite. The aircraft was stripped of all useable parts at NAS Atsugi Japan.
VW-1 deactivated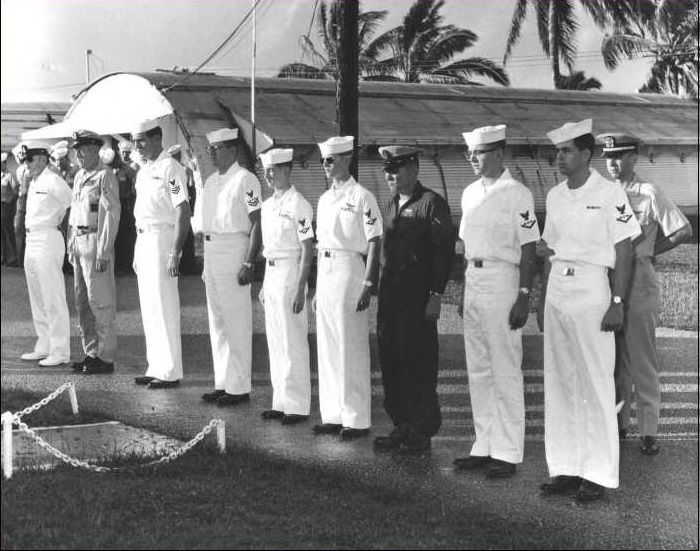 An awards ceremony for Air Medal, during morning quarters. circa 1966
Photo provided, by Richard (Carroll) Bleakney. AX3 VW-1 65-67 TE-4, 6.
VW-1 was deactivated 01 Jul 1971; the men and aircraft were absorbed into VQ-1 which was being relocated to NAS Agana, Guam, from NAS Atsugi, Japan. VQ-1 continued flying weather reconnaissance missions. It is interesting to note that VQ-1 absorbed her parent squadron.
VW-1 has been twice awarded the Navy Meritorious Unit Commendation while individual aircrewmen have been awarded over 1200 Air Medals and two Purple Hearts for operations in Southeast Asia. VW-1 flew more than 160,000 accident free flight hours during its 19 years of operation.
Links:

1 [Victory At Sea "Suicide For Glory" ]
2 [Wikipedia - Operation Ivy Atomic bomb tests]
3 [1963 ALL HANDS article GUAM CROSSROADS OF THE PACIFIC]