WITH THE WORDS, "This is Rain-proof Five, on-station," a 12-hour, night-long vigil begins for one crew of Airborne Early Warning Squadron One (VW-1), based at NAS Agana Guam.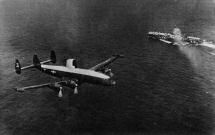 VW-1'S WARNING STARS work extensively with Yankee Station CVA's.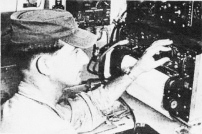 An aerographer preflights his dropsonde receiver prior to a "double fix" for a weather observation.

Radarsocpe operator shows fatigue on patrol, each flight lasts about 12 hours.
VW-1 is responsible for typhoon and tropical cyclone reconnaissance from the International Dateline west to the Malay Penisula and from the equator northward. To gather the vital weather data, aircrews fly a "double fix" on all storms in WestPac. This means penetrating the eye of a typhoon twice each night at between 700 and 1500 feet.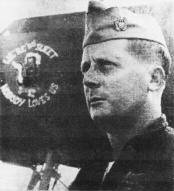 LCdr. Ralph Chenoweth, aircraft commader for Crew 8. stands near his aircraft before going on a twelve-hour patrol.
During the fixes, the combat information center officer (CICO) navigates the aircraft through the least turbulent areas into the eye of the storm. He is assisted by another CICO and six enlisted scope operators. A crew like this has been over the Gulf of Tonkin nightly since August 1964.
VW-1 uses the Lockheed WC-121 Warning Star, the Navy's 70-ton, radar-configured version of the Super Constellation, which carries a crew of approximately 23 on AEW missions.
Commissioned in 1952, VW-1 has never had an accident. The year 1967 put the squadron over the 120,000 accident-free hours mark. VW-1 is led by Commander F.H. Roth.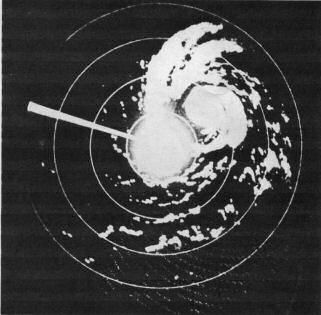 WHAT DOES a typhoon look like? This question has been more easily answered since the development of radarscope photography which is widely used in research in this country.