Site Managers Note January 23 2018: Looking for help for the questions asked by Liz Morris, she also has a e-mail posted
May 05/22/15 11:17 PM
with pictures of her husband Mackey Morris.
From: Garry Garretson [mailto:g.garretson@att.net]
Sent: Friday, January 19, 2018 5:23 PM
To: websitemanager@vw1association.com; aewron1fe@gmail.com; mackey_morris_first_adrc@yahoo.com
Subject: Buddy Letter
I have been asked by the widow of Mackey Morris to post a request for a buddy letter. He was with VW-1 9/67-9/68, flying as a flight engineer. His rate was ADR1. Could you post this and request that respondents send their information to mackey_morris_first_adrc@yahoo.com. Mackey had cancer LIz needs Agent Orange proof that he flew into Vietnam and had boots on the ground.
Thank you helping out and posting the above on the VW-1 site.
Garry G. Garretson
VW-1 11/66-4/68
ATN2 Radioman on several crews
Site Managers Note January 8 2018: Looking for help for the questions asked by Earles McCaul, Especially questions #2 & 3..
"From: EARLES & CATHERINE McCAUL
To: "Pete Wasmund" vw-1@comcast.net
Sent: Sunday, January 7, 2018 1:01:13 PM
Subject: Questions
Pete -- A couple questions for you:
(1) Did that VW-1/B17 info that I sent prove useful for the "early" VW-1 history?
(2) Does ANYBODY know what MONTH that VW-1 Air Medal presentations took place (re: pix from Rich (Carroll) Bleakney, AX3, '65-'67, TE4,6?)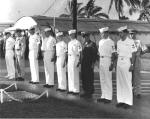 copied from http://vw1assoc.org/basephotos.html.
(3) Who now maintains/archives the USN Flight Time records? (I'm STILL trying to convince VA that I was "in-country" with VW-1)
Thanks,
Earles L. McCaul
ex-ATW/AT1(AC)
VW13,VW11,VW1,PMR
Subject: Fw: Shipmate needs help
Sent By: Bud Horn
On: Mar 03/09/17 5:41 AM
To: The world

Site Managers Note March 9 2017: This e-mail was sent out by Jim Prusa and forwarded to me by Bud Horn & Steve Davis. This is in reply to Bob Stephenson's request that is immediatly below.
All:
FYI I have been in contact with Bob Stephenson and I clearly remember him flying on Crew 7 and working out of the Det C shop - he was another babyface kid like all of us that one can't forget. Furthermore, the fact that he received an Air Medal is ipso facto evidence that he was flying missions originating from the ground in Vietnam. It's time for all of us to put our collective feet down with the VA. I'm composing a letter for Bob that he can use to proceed with the VA. I had no idea that the pencil d***ks had excluded US Navy personal and that we now have to prove we were there!
PLEASE never file a claim with the VA on your own. Words in communications are extremely critical. Always use a solid representative and I strongly suggest that the Disabled American Veterans (DAV) is the best of the reps I have used - they know all the pitfalls.
Also, I was in the states last month and took a few of my sons to Pensacola Naval Air Museum. They have cleaned up the EC-121 there - but no museum visitors are not permitted to walk the ramp where these birds are parked! Ridiculous.
I will be speaking at a business conference in Danang this coming November with Bob Parsons (a Marine who was wounded near Danang - and the billionaire founder of GoDaddy.com) and I plan to run down to look around ChuLai Air Base that now is an international airport. Perhaps the VietComms have some evidence I can get my hands on if they will share. At least I will grab us some current photos.
Cheers to all!
Jim Prusa
1st Radio
VW-1 '68 - '69
Subject: VW-1 Association
Sent By: Robert M. (Bob) Stephenson
On:February 2, 2107
To: VW-1 All Hands Alumni Assn C/O Sally Metzger

Sally:
When one reaches my age (69) many thoughts turn to what once was and I have fond remembrances of my time with VW-1. I was with VW-1 1968-1969 and was on TE-7 as the flight electrician. Our Shop Chief was Cruz Martinez.
On the downside, I have been diagnosed with Prostate Cancer and am trying to get a disability through the VA to help pay some of the medical costs. They appear to not feel the Navy had many in Vietnam, so I have been asked to prove I was there.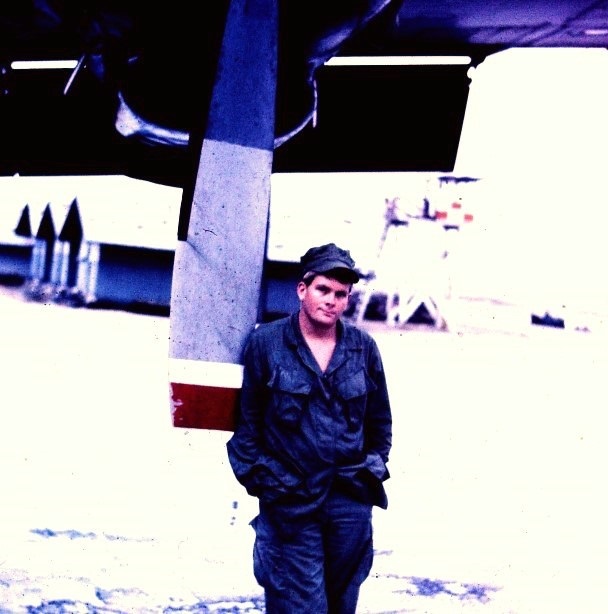 This is me back in the day.
I wondered if the VW-1 group offers any assistance in supplying proof that those of us who flew with VW-1 were deployed to Chu Lai? I was awarded the Air Medal, so that is the proof I was a crew member.
I also have found definitive legal opinions in VA Claim law suite from another VW-1 member that states: "The evidence of record reveals that VW-1 also maintained a two-plane detachment at Marine Corps Air Station Chu Lai, Republic of Vietnam and provided airborne early warning coverage for the Seventh Fleet, operating in the Tonkin Gulf ."
Please let me know of any assistance the VW-1 Association could offer in that regard.
As I mentioned to you in my email, I am a webmaster and can offer assistance with the website if ever needed, pro bono of course.
Respectfully,
Robert M. (Bob) Stephenson
Site Managers Note Feb. 14 2017: Thanks Bob for your offer to help with the web-site. Look forward to your comments and critiques.
Subject: Questions
Sent By: David Jackson Jr.
On:Sep 20, 2016, at 9:40 PM,
To: Ralph Link:

Mr. Link, :
My Name is David Jackson Jr. I believe my father was a member of your Alumni. David Jackson or Dave as he was called passed 3 years ago of lung cancer, My mother recently checked into the mesothelioma lawsuit and compensation program. The person she talked to asked for my fathers orders to the ship to prove he was exposed and as it was back then he was only sent TDY to the ship with his squadron and has no orders. My father was an AMS Aircrew with VW-1 from 68 through 71 I believe and changed a lot of tires and brakes and I believe the brake dust was all asbestos, do you or anyone in the Alumni have any thoughts or suggestions I might pass on to my mother? I would truly appreciate any and all Help. (I followed my father into the navy and was AC on P-3's)
V/R
David D. Jackson Jr.
575-791-8208
Subject: Addition to April newsletter
Sent By: Woody Van Kirk
On:Apr 04/21/16 9:26 PM
To: Pete Wasmund:


Just an update on the nifty insert in the April (2016) newsletter,(pg. 2).

the radioman's log
Four Contacts Four Four Copied Four
from The Eye Vol 1 No. 1


What is written there is true as written but it is not all. Now I can tell The Rest of the Story.

Here's what happened. We were sitting on deck on Wake Island as stated, and listening to VW-4 on the radio. A few of us were gathered around the radioman position and someone, I don't remember who, suggested I try to raise contact with that aircraft.

I was a new 2nd radioman wanting to move up to 1rst radioman and I did not know the protocols for calling another aircraft on "unofficial" business. I wasn't sure something like that was "allowed. I was afraid I might break some official rules and was very reluctant to contact that VW-4 aircraft.

So after a minute of cajoling me and me not doing anything Chief Burfitt picket up the mic and made the call.

So, as listed, I was the radioman on that mission and signed off on the log but that call to VW-4 was made by Chief Burfitt.

Was that the end? Deju Vu all over again some time later.

I got orders out of VW-1 to an attack outfit, VA-153 flying A-4F's out of Lemoore, Ca. Some months later I was sitting in the cockpit of an A-4 parked way up on the bow of the USS Coral Sea (Mustang).

I was com/nav maintenance and I would often tune in the UHF to some of the tactical frequencies that I remembered to see if I could hear anything. Well, this one day I tuned in and lo and behold I was listening to Mike Webber on the radio with Mustang.

Here comes the deja vu. I wanted to contact TE4 on that freq and request a switch to the VW-1 squadron freq and have a few minutes of chat with my old squadron mates. But I didn't.

Once again thinking I might be breaking some major protocols.

Hope you find this interesting.
Subject: VW-1 assistance
Sent By: Larry L Brown
On Feb 19, 2016, at 2:50 PM,
To: vw-1@comcast.net

Ralph Link,

My Name is Larry L Brown... I was stationed in VW-1 a couple of times, once in AEWBARRONPAC and I was on the plane that left Midway Island and lost 2 engines Past the point of no return which was French Frigate Shoal's. Was sent to a closer Island, can't remember which one but the sent 2 planes to pick us up. The plane I was on lost #3 engine on touch down on O'AHU. SURE WERE A LOT OF BRASS to meet us. Since this was my last flight before being sent to Alameda California. In Alameda I flew in VR-30. After Alameda I was sent to NAS AGANA GUAM. To fly with AEWRON ONE. I was there from 68 to 71 with my wife. I'm trying to prove I was in DA Nang and Chu Lai during my time in Guam.

I've sent for my DD214 to prove combat pay and no taxes. This is to up date a VA claim. Anything you can do to help me prove I was in Country would be of great help.

Thank you Larry L Brown!!
Flew on AC#145934
Low Level Typhoon 100 KTS Penetration VW1 Oct 25 1968 R. E.Runyon, CDR.,USN

Phone # 850 944 4163 I live in Pensacola FL. email me at


Subject: VW-1 assistance
Sent By: Wayne Baumunk
On Jan 30, 2016, at 12:06 PM
To: vw-1@comcast.net

Ralph Link,

My name is Wayne Baumunk... I was in VW-1 from 1969 till it's decommissioning in 1971. I was glad to find your website about VW-1.

I am writing today to seek your groups assistance. I need a copy on my orders showing I was sent to Vietnam, or a couple buddy letters saying I was seen in Vietnam.

I now live in Durango, Colorado and have developed type two diabetes along with being legally blind, Tinnitus, and PTSD/Depression. The VA has given me disability for the tinnitus, but has denied the diabetes because I cannot prove I was in Vietnam. My DD-214 indicates Vietnam service, but as usual, they want more proof.

I was not an aircrew member, nor was I assigned to the Danang Detachment as a ground pounder. On or about April 10, 1970 I did fly into Danang aboard TE-00 on a cargo resupply mission. I believe we flew from NAS Agana directly to Danang. We spent three days on the ground there. We then flew to Sangley Pt. in the P.I.where four of us went for training on the KY-28 radio scrambler coder at Cubi Pt.. The Plane went on to Naha, Okinawa. I sent a letter to my parents from Danang where I noted the we arrived at 6:30PM after an 11 hour Oceano flight, flying at 8,000 ft and 160 KTS. I also noted the aircraft was flown by the Squadron Commander. My mother kept the letter and gave it to me during the last days of her life.

I started with Bos'n Mate Paul Lee as a compartment cleaner, then went to the squadron as an ATR. I went to APS 20 radar school in the old quanset huts on the Officer's housing side of NAS.

I worked for a while in the AT shop, then was transferred to the Weather vans where I worked with Carl Headburg.I usually worked the night shift, and when I made E-5 I moved off base.

I transferred to VQ-1 as I only had a little time left to serve. I got out of the service on Guam and remained there for some 25 years after. I helped open the Coral Reef Marine Center SCUBA and Marine store on Marine Drive in Asan.

Any assistance would be appreciated.

Wayne Baumunk
485 Florida Rd. B-12
Durango, CO 81301

970-749-6505

Subject:VW-1, Agana, GU
Sent By: Liz Morris
On: May 05/22/15 11:17 PM
To: vw-1@comcast.net

Mr. Wasmund,

I am the surviving spouse of ADR1 Mackey (Mike) R. Morris who served in VW-1, Agana, GU, Sep 1967-Aug 1968. I am looking for anyone that served or knows anyone that served with him. I can use ANY information you may have.

My husband passed away in Oct 2012. He had filed a claim with the VA before he died but, at the time of his death, they had not processed the claim. I have been fighting with them ever since. They are denying his claim, saying there is no record of him ever being near Vietnam and since he didn't get a Purple Heart, there is no claim. I got a copy of his military record from St Louis but it is very sketchy (no orders, pay records, nothing). I requested a copy of his military medical records as well but they told me that the Regional VA Office has them. I am presently waiting for an appointment with that office to review the records. I also requested a hearing but was told it will take at least 10 months.

I know he was a Flight Engineer in the Super Connie and flew surveillance missions into Vietnam. I don't know which aircrew he was in but his aircraft took enemy fire during a few of these missions. I cannot found any information about these missions or his in-country assignments. He was concerned that he would have trouble proving his Vietnam service.

Please, if you knew him or have any information that will help me prove his claim, it will be greatly appreciated. I have included four pictures taken around that time frame.


Thank you,

Liz Morris Subj: VW-1, Agana, GU


Subject:Kerry Mcgraw seeking buddy letters
Sent By: Steve Davis
On: Mar 03/18/15 8:58 PM
To: Pete Wasmund:

Pete
Kerry McGraw arrived in Guam 7/12/1967 to 1/31/1969, AE-2 need buddy letters and he has serious health problems. His Son Justin called me and we talked for a while. I suggested he email you and that you might contact some of the folks he knew in VW-1 that might get him Buddy letter... His (Justins) phone number is 614-738-1405. He got my info from the web site.

Help him if you can.

Kerry flew with crews TE: 1, 4, 8, & 00 and hung out a lot with AE John Evans. Kerry also remembers Ltjg Ralph Lidster.

Justin will ensure that his father receives any communications from his VW-1 shipmates. His e-mail address is
Thanks
Have a Blessed Day!!
Stephan Davis


Subject:Re: VW-1 Squadron business
Sent By: "Jim Galinsky
On: July 20, 2014 3:05 PM
To: Pete Wasmund:

Hello Pete Received the following from ADC Rick Hall's daughter, Karen.

Just got off the phone with Chief Hall - had a wonderful chat. He asked that I get in touch with those of you who might remember having served with him. So, to help pass the word about his vision problems, I am forwarding this to people I know from the VW-1 days.
He would truly enjoy receiving a phone call knowing from those who know him from his Engineer days flying Connies. I had no problem contacting him at the number listed below: 719-599-3882.

Jim Galinsky




From: Rick Hall
To: Jim Galinsky
Date: 06/19/2014 12:12:37
Subject: Re: VW-1 Squadron business

Hi.

This is Karen. I am now reviewing Dad's email because he is unable to see the computer screen. I tried getting him set up with Apple products so they could read his email and documents but Dad had a rough time getting used to it. He has asked for people to call him instead of email him if they wish to communicate or shoot the breeze. His number is 719-599-3882. I am sure he would really enjoy talking to anyone from his days in the Navy. If you could pass this information along to anyone that might know Dad I would really appreciate it. You can also let people know that I am regularly checking Dad's email and that I pass along any information that comes to this email address.

I hope all is well with you and Sheila!

Love,
Karen.
Subject: Chu Lai
Sent By: "John Rice"
On: Dec 12/16/12 2:33 PM
To: Pete Wasmund:

Hello Pete

I have been remiss for not getting back to you regarding our short conversation at the last reunion over the paragraph on VW-1 history that states "On December of 1967 VW-1 established a detachment at Chu Lai later moving to Da Nang" I do not know if this note will help some of our ship mates over the Agent Orange thing but if so, here is what I remember.

TE-4 did land in Da Nang for fuel in June of 1966. This is based on an award I received that indicated my combat flights started in June of 66 through April 67. The only thing we did at Da Nang was to obtain fuel and Oil prior to our mission. Upon completion of that flight we did not return to Da Nang instead we landed at the new air strip in Chu Lai. I do think TE-4, under the comand of LCDR R. M. Bates, was the second ship North as TE-1, under the comand of the skipper, was the first. Mr. Scott Bates may be able to add to this from his father's records.

Our early operations out of Chu Lai did not have the support of the Butler hut or the ground pounders which came at a later date. Al Garza, one of the TE-4 crew members, provided a number of Chu Lai photo's that started with dates in February of 1967. One of his photos did show the Butler hut being there in May of 67. I also think our first on site quarter were 40 man tents with, of course state of the art air conditioning and TV,. Remember I never said my memory was all that good. The last entries in my flight logs are for November and December of 1967. All of my flights with TE-4, except that first one, started and ended at Chu Lai and I think I remember having the ground pounder support throughout the 1967 time frame.

As I said at the start I don't know if this will help anyone seeking relief from Agent Orange and I only wish I had saved some of my TDY orders to show when we started operating out of that area. However I do have one Performance Evaluation made out by one of the best PIC's I ever flew with, that being LCDR R. M. Bates, which is dated 4 may 1967. That performance evaluation shows the deployment and evaluation was made in Chu Lai. After I re read that performance evaluation, and the great words in it, I confess I must have been one hell of a cook as I have always known I was dangerous with tools. Speaking of tools or golf clubs and after our last reunion and the results of our golf outing I think Scott Wagner and I need to put the clubs aside for 6 months and then maybe sell them. But who knows maybe Scott and I will come out better in Tuson.

Have a great day

John M. Rice
former crew chief TE-4

From: "ronald qualls" ronalddqualls@gmail.com
To: vw-1@comcas.net
Sent: Friday, November 4, 2011 7:03:36 PM
Subject: VA-claim
I was at VW-1 1960 thru 1961, sometime in this period I fell out of my upper bunk, landed on my face, and was out till the following morning, was taking to sick bay, had 6 to 8 stitches above my left eye, I had a concussion, I have had dizzy spells and head aches off and on since then. The Navy has no record of this, I sent for my medical records and sure enough it wasn't there. The VA believes that this did happen to me, but not while I was in the service. If any one remembers this, please get in touch with me at ronalddqualls@gmail.com. This case is close to being closed, I do have one that remembered it
From: "Pam (Crouch) Krause"
To: vw-1@comcas.net
Sent: Sunday, September 25, 2011 6:18:16 PM
Subject: I tried sending this to Ed etc but it was kicked back
What a trip down memory lane!.
We lived in the "typhoon proof" concrete block houses on the AF Base. I was in 4th grade.
I remember those streets so well. I know that one store. Mother bought a shell purse there - kept it in the plastic bag her whole life - never would use it. Afraid she'd break the shells, LOL
Thanks again for these photos. Daddy was in Air Rescue. We had several typhoons while we were there. But to us kids it was fun - as the other families would move in with us and mother would bake up so many good things.
Everybody had a ham radio for if the power went out. And we would have to turn the lights out some nights for the military guys to "play war". We were there in 1953 -- not that many years after WWII when you come to think about it.
On the beach we would still find human bones (shin bones mostly) of the people who died. We would have the island deer come up and look in the windows.
I guess I will always remember our time there. We had a horrible plane crash there one morning - around Christmas. It took out a whole line of houses. Dr. Stewart and his whole family. It turned one house completely around. And then the kids at school. I remember Leilani and I going around playing the yukalele and she'd do the hula. LOL. And a little boy named "Iligio" (I could never spell his name so he thought that was funny).
Thanks again for this trip down memory lane.
Pam (Crouch) Krause
Site Managers Note Sept. 26, 2011: I believe that the airplane Pam refers to was of an Air Force search and rescue that was returning from its mission of searching for a Navy weather reconnaisance aircraft (PB4Y-2S) of VJ-1/VW-3 that had been lost in Typhoon Doris on 16 December 1953
A link to this tragedy is at
Weather Plane Lost in Typhoon Doris
Site Managers Note May. 06, 2011: I am not aware of any threats of asbestos exposure to shipmates of VW-1 while assigned to VW-1. However many VW-1 shipmates may have been exposed while assigned to ships or shore stations. This information is provided as one of several avenues for assistance or additional information.
A link to the Mesothelioma Symptoms has been added to the links page of this site.
From: "Alex White" Mesothelioma Symptoms
To: vw-1@comcas.net
Sent: Friday, April 22, 2011 9:08:31 AM
Subject: Website Resource Suggestion
Dear Pete,
I came across the VW-1 Hands Alumni Association site today and noticed we share a similar interest in the health and wellness of our veterans. My name is Alex White and I am the Communications Director for Mesothelioma Symptoms. As you are probably aware, mesothelioma is one of the deadliest forms of cancer today. Unfortunately, it is also one of the most misunderstood diseases in recent times and continues to cause extensive harm. However, our site,
http://www.mesotheliomasymptoms.com
is an excellent resource to learn about the dangers of this disease.
Members of the U.S. Armed Services have not only dedicated their lives to their country, but are also unfortunately the most common victims of mesothelioma due to their increased risk of exposure to asbestos. The military has used asbestos in various aspects of work and construction and ultimately affected close to one million individuals of the 25 million veterans in the U.S.
I noticed on the VW-1 Hands Alumni Association links page that you direct visitors to other veterans health-related websites http://vw1assoc.tripod.com/vw-1index.html. I would be grateful if you shared our site with visitors on your links page to help raise awareness of the risk mesothelioma poses to veterans; Mesothelioma Symptoms is an extensive database of information and resources for patients and their families to better understand the symptoms of mesothelioma and the various aspects of diagnosis, prognosis, treatment, as well as mesothelioma life expectancy. Please let me know if this partnership is of interest to you. I look forward to hearing your response.
Thanks again,
Alex White
Communications Director
Alex White
----- Forwarded Message -----
From: "Dan Lovell"
To: VW-1
Sent: Saturday, September 18, 2010 3:40:49 PM
Subject: Mike Burke
Pete was on your website and was wondering if anybody remembers Mike Burke, he was an ACW3 kiddie-cruiser that was in VW1 in 58 to 60. I was in VW3 58 and 59. It's really a shame the way NAS Agana has gone to the dogs. Have been to Chanute several times to help restore 143211 and Warner-Robins helping on 143297. The numbers may be 141.
Dan Lovell ACW2
Site Managers Note Sept. 17, 2010: I am not aware of any threats of exposure to asbestos to shipmates of VW-1 while assigned to VW-1. However many VW-1 shipmates may have been exposed while assigned to ships or shore stations. This information is provided as one of several avenues for assistance.
A link to the Mesothelioma Center has been added to the links page of this site.
From: "Kristin Dambrauskas" kdambrauskas@asbestos.com
To: VW-1
Cc: Ed Metzger
Sent: Wednesday, August 25, 2010 1:36:56 PM
Subject: Veteran Resource Suggestion
Hi,
My name is Kristin Dambrauskas and I'm the Veteran Liason for the
Mesothelioma Center
(Asbestos.com); an organization devoted to assisting veterans through their application processes for VA benefits, and helping them obtain the maximum benefits for which they are entitled. While I was browsing through a number of Veterans sites I came across your website and was very impressed by the information you have listed.
Countless veterans are currently suffering from life-threatening illnesses that are a result of exposure to asbestos, a material that was commonly used in hundreds of military applications, products, and ships because of its resistance to fire.
The
Mesothelioma Center
provides a complete list of occupations, ships, and shipyards that could have put our Veterans at risk for developing asbestos-related diseases. In addition, we have thousands of articles regarding asbestos and mesothelioma and we've even created a veterans-specific section on our website in order to help inform about the dangers of asbestos exposure.
Because so many veterans visit your site, I thought that you may be interested in posting our link to help educate veterans on the dangers of asbestos exposure by linking to our website from your page at vw1assoc.tripod.com/websites.html. Please let me know. You can reach me at kdambrauskas(@)asbestos.com or at 407-965-5755. Thanks again.
Best Regards,
Kristin Dambrauskas
Mesothelioma Center
----- Original Message -----
From; Bud Horn To: undisclosed recipients
Sent: Jun 06/15/10 7:08 AM
Subject:VA Says No to Agent Orange Hearings
FYI:
VA Says No to Agent Orange Hearings
To: Ed Metzger
Sent: Saturday, February 13, 2010 6:43 AM
Subject:VW-1 Guam
Hi,
My name is Wayne Baumunk. I was assigned to VW-1 and later VQ-1 on Guam from 1969 to 1972. I still live on Guam. I was at E-5 AT working on the APS 20 Radar, and the Weather Computer in the back of the plane. I usually worked the night crew, replacing bits and pieces broken during the days operations.
I stayed on Guam to open a dive shop, and Marine hardware store. You can visit
our website
.
A few years ago I went blind for no apparant reason. I recently visited the VA office on Guam because I had heard of the Agent Orange disability situation. While there I recalled that after each flight of the 121's the flight crews, and some ground units wiped the entire plane down with some type of solvent. I don't know, kerosene, or something. Anybody know what that solvent was? It was wheeled out to us on a small cart, it was usually in a green 55 gallon drum with a hand crank pump on the top. We doused our rags in it, and began wiping. Those 3350's leaked a lot of thick black oil everywhere.
I am nearly 60 now, and am wondering what that solvent was?
Any help would be appreciated.
Wayne Baumunk
P.O. Box 10117
Tamuning, Guam 96931
PS: You may have heard, Guam is in the starting stages of a major military build-up here. Over 5,000 Marines from Okinawa are headed our way over the next 5 years or so. The US Military is planning an aircraft carrier warf for Guam, and we are to get a Predator Flight Control building.
----- Original Message -----
From: Gary Boothe
To: Ed Metzger
Sent: Tuesday, February 09, 2010 5:50 PM
Subject:Photo
Hello, I'm curious if you would be interested in a photo of TE-00 at Kobler Field on Saipan, around 1960? My parents were civilian teachers working for the Navy and we lived on Saipan from 58-62. I have always had a fondness for Connies and admired my father's photo of this aircraft. I didn't know anything about this plane and it had never occurred to me that I might be able to research the history of that specific plane. I just discovered your great website and made the connection with that plane. Did some online research and found out quite a lot of the history of this beauty. Great job on the website. I really enjoyed all the photos of Guam and the unit.
Regards,
Gary Boothe
South Dakota
Site Managers Note October 24, 2009: Received this e-mail 21 Sept. 2009 from Barry T. Miller via Ed & Sally Metzger. Another one of our VW-1 shipmates looking for assistance in getting help from the VA for health issues from Agent Orange. Please help if you can.
----- Original Message -----
From: Trent Barry
To: Ed Metzger
Sent: Wednesday, October 21, 2009 9:29 AM
Subject: Hi My name is Barry T. Miller from TE-1 off of Guam
I will be short for I know we both live hurried life's.....I am at this time fighting wit the V.A over a Agent Orange exposure claim and I need a couple letter from my fellow air mate to confirm that I was in Vietnam even thought I hold both campaign ribbons and a Air medal.......My eMail address is isunu@comcast.net. If possible could you please post this help message or send me a list I could contact....I live in Jacksonville Florida and would be happy to put up some of my fellow Navel Airman...for the upcoming Reunion
Site Managers Note 09/07/2009: Received this as snail mail 3 Sept. 2009 from Richard Cordle via Ed & Sally Metzger.
VETERANS AFFAIRS
RICHARD L. CORDLE
25 WILDRIDGE EST.
GARNER, IOWA
50438-1055
DEAR SIRS:
I JUST VISITED YOUR WEB SITE VW-1 * COM. AND FOUND SOMETHING THAT I HAVE BEEN LOOKING FOR A LONG TIME.
WHEN I WAS STATIONED IN VW-1 BETWEEN THE YEAR 1964 - 1965, I WENT ON A WORKING PARTY TO UNLOAD BARRELS OFF A SHIP THAT CONTAINED AGENT ORANGE. SOME OF THE BARREL WERE LEAKING THE LIQUID FROM THE BUNGS, AND WEARING GLOVES, WHICH SOAKED UP THE DEFOLIANT. ALL THE WORK PARTY WAS EXPOSED TO THE CHEMICAL. ANOTHER WORK PARTY PERSONNEL WAS EXPOSED OVER HIS BODY WHEN ON THE BUNGS CAME OFF AND COVERED THE FRONT OF (H)IS BODY. HE WAS TOLD TO WASH AND CHANGE (H)IS CLOTHING. WE NEVER SEEN HIM AGAIN.
BECAUSE OF PROSTATE OPERATION, HEART PROBLEMS, TYPE II DIABETES, AND SKIN AFFECTIONS. I HAVE BEEN TRYING TO PROVE TO THE VETERAN AFFAIRS THIS IS WHAT HAPPEN.
I ALSO REMEMBER PERSONNEL SPRAYING FOR WEEDS ON THE RUNWAY SIDES. IF ANYONE ELSE HAS COME DOWN WITH ANY CONDITIONS LIKE THESE, OR KNOW OF INFORMATION ON THESE ACTIONS PLEASE CALL ME AT 1-641-590-0137.
THANK YOU
(signed) RICHARD L. CORDLE
PS: LOOK AT "AGENT ORANGE ON GUAM.COM." ITS IN THE DRINKING WATER!
Site Managers Note 06/27/2009: This e-mail from Christy Winchester started a small flurry of e-mails, several of which are shown below.
Christy visited a company that has several memorials of US military personnel who died as a result of special missions that they were a part of. Christy's uncle
AEC LaVerne A Greiner
was one of the flight engineers aboard VQ-1's PR-21 when it was shot down by the N. Koreans on 15 April 1969.
From: "Christy Winchester"
To: "Kimberly
Cc: "Pete Wasmund" "Allan Prevette"
Sent: Wednesday, June 24, 2009
Subject: Visit to the memorial in Greenville TX
Hey Kimberly,
I went to Greenville today to meet with Jo and visit the memorial inside L3 Integrated Communications.
We were treated with the utmost respect and given more attention than I expected.
I went in with my 9x12 tracing paper and crayons with intentions of rubbing your dad's name and my uncle's. Another employee came out with some large paper and allowed us to rub the entire list of names. Jo got permission to have pictures taken as well (awesome gesture!) and said when they pass thru security, she would email them.
There were several monuments there, as you said and we looked at them but didn't spend a great deal of time out there because it was extremely hot and we thought they had already gone out of their way to help us achieve what we went there for.
I headed to work after I got back but this evening, I will take a picture of this rubbing and email it to you.
NO KIMBERLY, THEY WERE NOT FORGOTTEN! Sometimes we have a tendancy to think they were but they weren't . There are some wonderful people out there that remember. Pete, you and Putt are two of them!! I thank you both and know that God will reward you for all your kindness.
Does anybody know if there is a Cold War Memorial and if not, why? My sister inlaw and I were talking about making that our cause. What do ya think?
I'll be in touch
Regards
Christy
---
I would recommend a Google search for "Cold War Memorial". There appears to be a lot of info about that subject and the Intel people at Ft. Meade, MD have data on aircrew data and have a VQ-2 whale on display.
Mike Quigley
---
Pete,
did some research on this and there are several site working towards a Cold War Memorial in Arlington, VA as well as some in several states. To access, go to:
http://www.coldwar.org/museum/index.html
http://www.patriotspoint.org/exhibits/cold_war/
http://www.calcoldwar.org/
http://www.viewnews.com/2009/VIEW-Jan-20-Tue-2009/SummerlinSouth/26347415.html
http://www.coldwarmonument.org/
These are just a few of the ones I found. The 1st one is for a national memorial that I think we all would like to see.
Questions, drop me a line.
Mel Bonds
---
I know of no specific Cold War Memorial. However, at the Ronald Reagan Museum/Library in Simi Valley, CA we have one particular room dedicated to the Cold War. In it are various maps of our flights over the polar regions toward Russia (which I personally flew 2 yrs over the Arctic supporting those flights and ice reconnaisance). Also in our Cold War room are different equipment that the USA put up in the skies to indicate firings from USSR ...SDI....with capability to launch missiles in the event of their launch....air-raid warning sounds from those days, and a 5-minute movie detailing some of the events of those days.
I'm a tour guide there 3 days aweek. We also have SAM27000 which was Air Force One for 7 presidents, just 35 feet from the Cold War Room ....you pass the Cold War Room enroute to entering and passing thru AFOne. Stop by....open every day from 1000 to 1700.
Claude "Moon" Mullen
Site Managers Note 06/06/2009: This e-mail was in response to Donald E, Eisert e-mail dated July 17, 2008, shown about 3 comments below.
From: Craig Borsheim
To: vw-1, Ed Metzger
Sent: Thursday, June 4, 2009 6:34:38 AM
Subject: Vietnam - Proof of feet on the ground...
"Only two defining forces have ever offered to die for you, Jesus Christ and the American GI. One died for your soul, the other for your freedom"
Craig Borsheim ADR2
VW-1 69-71
P.M. office with Kelly 69-70 as ADRAN
Line/Check Crew - Guam 69-70 as ADRAN
Det "C" DaNang - Ground Pounder 70 as ADRAN
Line/Check Crew 70-71 as ADR3
I had the same problem when I went to the VA. I searched and wrote letters and E-mails for two years and this is what I found out...
1. TAD orders are not Official Navy orders and as such are not kept in your 201 file. So unless you have copies from your flights you won't find any.
2. Marines and Army are the only service they will take a VSM (VietNam Service Medal) on your DD214 as proof of boots on the ground. Navy and Air Force must have additional proof that we were actually in country and on the ground.
3. Pay records are only kept for seven (7) years after you leave the service so no combat pay proof.
4. There is no Squadron deck log records that I could track down.
5. There is a microfilm of the squadron rosters but enlisted were updated every six months, officers every month. So unless you were deployed to Vietnam at the time the roster was done there will be no record. - and it costs money to obtain.
6. What did it for me was, I finally got two buddy letters from AT2 Lapka & AT2 Earney addressed to VARO claims. Stating in them when they were in the squadron and wrote that yes "They had seen me in Vietnam the same time they were and I was deployed there for TAD. "
Hope this helps and don't give up. Keep at the claim and don't let the time relapse.
"Only two defining forces have ever offered to die for you, Jesus Christ and the American GI. One died for your soul, the other for your freedom"
From: "Scott Bates"
To: VW-1
Date: Saturday, April 25, 2009 5:49:07 PM
Subject: New squadron history
Dear Pete
I want to thank you for the recently updated squadron history on the site. I wish to do this because it confirms the same information I researched for my tribute to my dad. It also clarified some of the information for me that the Navy didn't provide when I requested it from them. The very early years, when the Navy was just beginning to convert their B17G's to the PB1W configuration, was very broken and unclear. The information you have in the latest listing finally cleared it up for me.
I am still a long way from finishing my tribute, and the information is getting harder to come by with each loss of another member of the squadron. Unfortunately, my own mother's memories are fading with time and it has become somewhat of a race for me to find the information I am wanting. So, until I can get closer to the finish, I only wish to request consideration by you and the rest of the group to allow me to reference the web site in my tribute. I assure you that I will only reference it and in no way will I use the web site information unquoted. Anyway, great job with the site as always. And thank you again.
Scott Bates
From: "Bob Jensen"
To: VW-1
Date: Saturday, February 7, 2009 4:08:40 PM
Subject: Don't believe it
I think you are whom (I) talk(ed) to at the golf course today and who told me about the VW-1 website. Imagine my suprise when I looked at it and found a 50 year old picture of me in front of my old aircraft. Thank you so much for making aware of this association. I'll be joining immediately.
Site Managers Note 07/18/2008: This e-mail was received by Ed Metzger and points out the need for help needed by some our shipmates with health problems related to Agent Orange.
There were several e-mails between Ed and Don concerning this subject, but the message below relates Don's problem and his quest for information.

If you can provide help to Don Please drop him a line.
From:
To: Ed Metzger
Sent: Thursday, July 17, 2008 3:11 PM
Subject: vietnam
Hello Mr.Ed
I just bought a computer about 3 months ago and was tooling around the internet when I came across this web site. It sure brought back some memories. I was initially assigned to AEWBARRONPAC stationed at Barbers Point Hawaii. We would deploy to Midway Island and fly early warning from there to Adak Alaska in the EC121K'S. When over the horizon radar came out the squadron was disbanded and I was transfered to VW-1 at Agana Guam. This was toward the end of 1964. We were flying typhoons and fleet support off of vietnam. We would deploy to Sangley Point in the Philipines and fly most of our missions there. When we weren't flying thypoons we would fly to Vietnam and provide air support for ships off the coast of Vietnam. At times we would land in Vietnam for fuel, supplies etc.
That is my problem. My DD-214 only shows my last duty station as Guam. There is no mention of my time spent in the Philipines or Vietnam or any of the other stops we made while flying with VW-1. We also flew into and out of Okinawa, Taiwan, and Japan. I have filed a claim with the VA for Cancer related problems due to Agent Orange. I have been diagnosed with Mantle Cell Lympoma and now just recently with prostrate cancer. Since 2002 the VA has changed the rules stating that the only people that are eligible for benefits are the people that actually set foot in Vietnam will be considered a Vietnam War Veteran. All the other people that flew thru all these herbicides or the ship board people that had their water tainted with with it in support of the war are no longer eligible for benefits. We are now Vietnam Era veterans unless a person can prove they actually set foot in Vietnam. I remember landing in Vietnam and spending time there. But the Navy does not save a flight manifests more than three months so there is no record that I ever landed and set foot in Vietnam. The biggest thing I remember about Vietnam is the chow hall. I remember as you entered there was usually this long wall where everyone hung their hats. I remember it so well because one of the CIC guys picked one up as a souvenior.
Now about me; Name Donald E, Eisert
From Minnesota
I as ATR4(3) Radar Tech on the flights.
Time I was with VW-1 From about October 1964 to June of 1966
I have records showing that I have about 1000 flight hours during this period.
I can't remember any of the TE- (crew) numbers I flew a couple different.
A few names that sound familiar are Pendray and Eskew and Farmer
I guess what I am looking for is any information proving that I set foot in Vietnam.
Thank you and God Bless
Donald E. Eisert
Site Managers Note 01/26/2008: This e-mail was received by Foster from some of his buddies in the VQ Association. I thought that this information could be helpful.
From: Foster Hoover
To: Pete Wasmund
Subject: vq association
Date: Sat, 26 Jan 2008 10:54:37 AM
The following have made the rounds before but are worth repeating. Thanks Keith and Bob for reminding us of the need to keep up with the latest.
Clint
***********************************************************
The National Personnel Records Center (NPRC)
has provided the following website for veterans to gain access to their DD-214's online:
This may be particularly helpful when a veteran needs a copy of his DD-214 for employment purposes. NPRC is working to make it easier for veterans with computers and Internet access to obtain copies of documents from their military files. Military veterans and the next of kin of deceased former military members may now use a new online military personnel records system to request documents. Other individuals with a need for documents must still complete the Standard Form 180, which can be downloaded from the online web site. Because the requester will be asked to supply all information essential for NPRC to process the request, delays that normally occur when NPRC has to ask veterans for additional information will be minimized. The new web-based application was designed to provide better service on these requests by eliminating the records centers mailroom and processing time.
**************************
Good morning FYI If you've recently received your Military Retiree Account Statement.
Please review the back of your statement and verify who you have designated as the beneficiary in case you die.
Based upon the fact that recently the VA had military retiree personnel information compromised it is interesting that somehow beneficiaries have changed.
If you look at the broader picture of what this means that many veterans probably wouldn't catch this and that as we lose more of our fellow service men and women each day this would leave their dependents without the benefit they deserve.
See Ya! Clint
Site Managers Note 11/18/2007: This sequence of e-mails gives more information on the Agent Orange problem. The e-mails are shown in reverse order, last received is the first displayed.
From: Doug "Steve" Stevens
To:Pete Wasmund
Subject:Re: VW-1 History
Date:Friday, November 16, 2007 12:35:58 PM
Pete:
My source is an unusual one. It is "The U.S. Army & Joint Services Records Research Center." I have
attached a copy of the cover letter
they sent to me with the information about VW-1. This gives you their mailing address etc. To request info from them, you simply send them a letter describing the information you are searching for and the reasons for the search. They sometimes take up to 6 months to respond as they only have two people that do the research. They do a very thorough job. It is strange that an Army function can provide more information than the Dept. of the Navy, but it worked for me.
Doug
---
From: Doug "Steve" Stevens
To:Pete Wasmund
Subject:VW-1 History
Date:Friday, November 16, 2007 8:53:24 AM
Pete:
In my research to support my VA claim for Agent Orange exposure and disability, I was able to obtain the attached official history files for VW-1. They provide an incredible amount of chronological information on the squadron during the Vietnam times.
The attachment
consists of two reports of about 44 pages total. Pages 1-16 are the OPNAV report for 1966. Pages 17-44 are the 1967 Command History. Unfortunately the 1967 documents are very hard to read, but can be read if one takes the time. If someone cannot read one of those documents, I will try to help.
The questions that were asked about the move of VW-1 from the quonsets to the other side of the airfield are answered in these documents.
I hope this is helpful to other VW-1 folks.
Doug "Steve" Stevens VW-1 AX3 1965-1967
Click here
if you need to down load the latest version of Adobe Reader. Adobe reader is required to read the OPNAV report.
From: Tom Hull
To: Pete Wasmund
Date: Friday, October 26, 2007 1:39:49 PM
Subject: Agent Orange On Guam
Pete:
Can you include the info on AO on Guam on the web site? There are a lot of folks that may be effected by this including wifes and children who were on the Island.
AGENT ORANGE ASSOCIATED DISORDERS APPROVED BVA DECISIONS OUTSIDE OF VIETNAM
Tom
Site Managers DISCLAIMER 10/26/2007: We cannot substantiate the facts given in the Agent Orange link. We leave it up to the people who think the info may apply to them to check for themselves the correctness of the info.
A lot of additional information and forms are available at the
VAÃÆ'Æ'Æ'ÃÆ''¢ÃÆ'Æ'¢ÃÆ'¢â'¬Å¡ÃÆ''¬ÃÆ'Æ'¢ÃÆ'¢â'¬Å¾ÃÆ''¢s Guide on Agent Orange Claims.
From: "Dan Sprinkle
To: Pete Wasmund
Date: 9/5/2007 1:56:55 A.M. Central Daylight Time
Subject: Guam Memories
Hi pete
You might ask the guys if they remember watching some us playing soccer on motorcycles with brooms in down town Agana. We would go out to one of the old airfields and have drag races. some times we would ride out to the old tank grave yard. One time we went to one end of the island to go goat hunting. We had to scale down this cliff to get to were the goats were. When we got down there we walked about 20 ft and laying there on the ground was an old WWII Jap hand grenade. That was the shortest hunt I have ever been on.
I hope everyone is well and happy
Duncan Sprinkle
From: "Michael Haenel" mihae@onlinehome.de
To: Ed Metzger
Cc: mihae@online.de
Sent: Wednesday, July 18, 2007 7:16 PM
Subject: Hurricane Hunter films (Path of Typhoons ARD - German TV)
Dear Ed Metzger,
I've been informed by Ray Boylan (President, Navy Hurricane Hunters) about your squadron, VW-1, which was engaged in Typhoon tracking throughout the Pacific using the Navy Super Constellation. You can see from my message (below) to him what's all about.
He pointed me also to a film about Hurricane Hunters from the 60's and is sending me a DVD.
What I'm desperately looking for is the following:
Any footage on Joint Typhoon Warning Center (Guam)


Naval aviation affected by Typhoons since 1944 throughout the Pacific


US military bases in Okinawa, Yokosuka and Guam


USN typhoon tracking flights in the 60s over the Pacific


Aircraft carriers at sea 60s-80s


Naval aviation planning using satellite pictures in the Pacific


Any assistance you or your readers could provide would be highly appreciated. Here you mentioned one of your colleagues taking clips with 8mm cam: http://vw1assoc.tripod.com/vw-1_flick_clips_.html Unfortunately, I wasn't able to download the compressed sample file. Is that footage also available, the original film?
I did some HD-pictures from Two Lovers Piont in October and so it would be great having older footage too.
Best,
Michael Haenel
direct cell ph (Germany): +49 172 9199208
Skype: michaelha05
Business contact page: http://www.openbc.com/hp/Michael_Haenel2/ mihae@online.de
---
Site Managers Note 07/28/2007: Michael Haenel, a tv author and director in the German TV industry, is in search of information about tracking storms. His e-mails indicate that he has been in contact with the VW-4 reunion group and US government agencies.
It appears that he will be doing a TV documentary on various cyclonic disturbances, a portion of this documentary will include a history of storm tracking, before the days of weather satellites.
The DVD mentioned can be obtained from the
Navy Hurricane Hunters
Web site.
From:Gary Wagner
To:VW-1 ASSOCIATION
Subject:Time spent with VW-1 on Guam
Date:Thursday, April 25, 2007
After completion of Escape and Evasion school in Hawaii, I was sent to VW-1. I got to the squadron on December 15, 1962. During the first week on Guam I was assigned to a work party to go up on the mountain above the base and help remove a gally from an airplane that had crashed short of the run way a few days before my arrival. I have not been able to find any acknowledgement from the military about the crash. I just assume it was a military aircraft. I was assigned to TE-2 but flew CIC many times with other flight crews. One of the last deployments I made was one of the 1st, if not the 1st trip into Cubic Bay. Most of the earlier deployments had always been into Sangly Point. I remember that the last know japaneese soldier was captured on the island and did't know that Japan had surrendered. I also remember that once a day or every other day that a MATS plane, usually a GlobeMaster, would come in with an engine feathered and the Fire crews would have to scramble. I played one year of interservice football on the island in 1963 with the squadron football team. There were 5 teams on the island. 2 navy teams, 1 marine team and 2 air force teams. I also remember that a navy pickup with the driver still in the truck had been recovered in the thick under brush on the mountain road. The truck was less than 20 yards off the road and the truck and driver had been missing for a good number of years. I left VW-1 on april 1st 1964 and went to AEWBARRONPAC. I didn't realize how good it was on Guam until I got there and flew in planes that were not very well cared for. At VW-1 it was nice to know that the people that turned the wrenches on the planes had to fly on the same planes. I was discharged in July 1965 after they changed the ATW rate to AX.
Thanks Gary L. Wagner ATW3.
Site Managers Note 02/016/2007: This sequence of e-mails relates some of the early days of storm tracking and its hazards. The link recalls the memories of a tragedy from various members of the squadron and crew members of the Navy ships involved in the search for a lost typhoon recon aircraft.

Not all the e-mails are included, including responses from some old VW-1 weather guys telling of the vivid memories this brings back.

The e-mails are shown in reverse date order.
---
From: Pb4y2eeb
To:Pete Wasmund
Subject:Re: Check out SAR Dec. 53
SAR Dec. 53
Interesting story about the USS Whitehurst out of Guam searching for our crew.
Also click on VJ1 and it will take you to our views and some history of VJ1/VW3 out of Agana.
Take care Earl
---
From:Pb4y2eeb
To:Pete Wasmund
Subject:Re: Check out SAR Dec. 53
Date:Wednesday, February 14, 2007 10:48:43 AM
Thanks Pete,
I feel the same way about my 2yrs. at Agana. After 9 yrs. Navy I switched to Air Force & retired in 68 but my best memories are those 2 yrs. Very close group of guys. I get E mail from my ole shipmates everyday. Maybe it was the trips to, Hong Kong, Japan, Sangley Pt. or the hazardous flying.
Beautiful water and low level flight over most of the Islands.
I'm going to try and send you a web site about typhoon data, we had a great time at our reunion tracing the location on a nav. chart of the area. Most of the flight crews remembered every eye they flew in and could relate their feelings. I believe only the ones that have experienced flying into the eye at low level know that feeling.
Take care Earl
Western Pacific Hurricane Tracking Data by Year
---
From: Pb4y2eeb
To: Ed Metzger
Sent: Sunday, February 11, 2007 10:01 PM
Subject: VW 1
Hi Ed & Sally Metzger,
A fellow shipmate sent me your web site and wanted to know if I knew about it. A little back ground well help explain.
We flew typhoons out of NAS Agana 1952 - 1954 some stayed longer as others rotated back to shore duty. The sqd. was formed and trained on the PB4Y2 at NAS Sandpoint, Wash. Our SQD. was VJ1, we arrived at Agana 26 July 1952., The sqd. changed names to VW3 late 1953. We were also called WEARON ONE.
Like you fellows 3 of us attended a VW reunion in Pax River, Maryland. Nobody had ever heard of us. This was the first we had meet since 1954, we didn't even recognize each other.
With Dick Mueller's technical know how we started searching the white pages on the Internet and found nearly 100 out of 175 we had assigned to our sqd. Sadly lot of them had passed away or were in bad health. We did have a reunion also in Branson a few yrs ago nearly 50 people had a wonderful time.
We were a very close group out on Guam. Flying typhoons at low level into the eye will make a believer out of you. We lost one plane and crew in typhoon Doris 16 Dec 1953, all the searching with ships and aircraft not one piece was found. .
I think its great that you guys and gals can get together, I wish we had somebody to step up and have another reunion but that's a lot of work.
Best of luck to your group.
Take-care Earl
From: "Atienza, Chito"
To: VW1 Association
Subject: Navy VW 1 Typhoon tracker
Date: Sun, 11 Feb 2007 22:29:50 -0500
Greetings.
I was checking out your website.. Gee that sure brought so much memories back in the 60"s.... I remember back in 1967 I was a young boy... We used to live back in San Diego I was told by my parents we were moving to a place called "Guam".. I had asked my Teachers.. My Friends and they all had this "Dumb look on their faces" Huh whats a Guam?!?!?! Come to find out it was a dot on the Map!!!!!!
Then we had moved there... My Father was in the Navy soon to be stationed at Polaris Point on board the USS Proteus AS-19 from 1967 - 1971. Not all "Navy Brats" had the privilege of riding Military Flights with the exception of "Space A" at Travis AFB.. Remember that?????
For me I can PROUDLY say that I had the honor of riding the Navy VW 1 Typhoon tracker.. Eating those white box lunches with chicken inside!!!! That was GOOD!!!!! In fact I remember riding the plane from Guam to the Philippines landed on Manila International Airport.. How about that..
A very close Family Friend of my folks named Ed Pador - Chief Pador was asigned with VW1 squadron - He'a a Filipino but He was not a steward. But I did recall him telling me that he was flying the plane....You might possibly know him. He is curently located in San Diego .. "Navy Town"!!! (He's Been Retired quite sometime now)
I had never served in the US Armed Forces although I'm with the US Coast Guard Aux.
I hope someday your website will also Remember the Sons and Daughters "Military Brats" that was there too..
Anyhoo. Very nice website I just wanted to share this story with you.
Regards,
Chito
Site Managers Note 02/08/2007: This e-mail was in response to Doren Renfrow's request for information on one of the relatively few aircraft incidents in VW-1.
The e-mails are shown in reverse date order.
Subj: TE-7 incident
Date: January 28, 2007
From: Chuck Lange
To: Pete Wasmund
Hi All:
I remember the TE-7 incident very well. I made my first typhoon penetration aboard TE-7. At that point in my VW-1 career I was flying with all of the crews as a relief engineer and had not been assigned to crew one yet. My records show 145928 as TE-7
TE-7 was taxing out of Atsugi early one morning on a mission. During engine run up prior to departure there was a brake failure and TE-7 ended up in the rocks that lined the run up area for erosion deturant. When the nose wheels struck the rocks the nose strut was forced down and the nose strut seals blew. The aircraft was towed back to the line and nosed into VW-1's hanger for repair.
As I recall the cause of the brake failure was a blown hydraulic line. The A/C was jacked and the nose strut was repaired. TE-7 was towed back to the flight line after repair. The first engineer was at the chiefs barracks doing laundry and the second engineer was going to do a run up and have the A/C ready to depart. Unfortunately the check list was not used. As Number 1 engine starter was engaged, The landing gear handle was still in the gear up position ( Put in that position to unlock and partially retract the nose gear in order to repack the nose strut ) As Number 1 engine started to turn so did the hydraulic pump. The right main gear started to retract and it was all over but the shouting. Remember the A/C was fueled for a mission so it had a full wing. The right wing hit the concrete ramp and the tip tank ruptured 600 gallons of fuel is now free flow. The 3A tank also ruptured and now there is an additional 565 gallons of 115/145 fuel flowing onto the ramp. But this is not the end, as the right wing struck the ground, the left wing is on an upward ark and as it came to the top of the ark it snapped like a whip and off came the tip tank also rupturing the 2A tank , so now there are 2330 gallons of 115/145 fuel on both sides of the A/C and spreading very quickly.
The fire department was called for ramp wash down which lasted a long time. When the ramp was reopened airbags were brought out and the wing was raised and the right gear was lowered and locked and flying days were over for TE-7, she was striped of all essencitial parts and the A/C was scraped at Atsugi.
The A/C that Ed referred to that burned up in Atsugi was 131751 PR-22 belonging to VQ-1 this happened in 1966 and was caused by an unattended heat lamp was left on to cure a lower radome boot repair. VQ-1 also lost 145936( I believe PR-24) due to burning, I have no information on that incident.
Chuck
---
From: Doren Renfrow
To: Ed Metzger
Sent: Friday, January 26, 2007 1:55 AM
Subject: history of TE-07, VW-1
Ed,
I was an ATN-2 , First radio on crew 7, from 68-thru 70. Can you offer a link to the story of TE-07's sad end at Atsugi in '70.?
I have read that story about Chief (###### the 1st engineer), before on the web but cannot find it. I ha(ve) passed along a silk-screen of TE-07 to my son & daughter-in-law and they wanted to include the story of the demise of a great plane.
Can you help?
Thanks,
Doren Renfrow
Subj: VW-1
Date: 11/23/2006 7:17:33 AM Central Standard Time
From: Ronald Qualls
To: VW1 Association
Just found your site, love it. Great aircraft, I am looking at several on my wall right now. Was thier from early 1960 to mid 1962, VW-3 for a short while and moved up the ramp to VW-1. Was in elect. shop then crew 6 toward the end of tour.
AEI-3 Ron Qualls
Subj: Fw: VW-1 paint scheme
Date: 11/17/2006 6:30:53 AM Central Standard Time
From: Ed Metzger
To: Pete Wasmund
Sent from the Internet (Details)
Pete Do we know anyone on Crew #7 that might be able to help? See attached e-mail
Ed
----- Original Message -----
From: Aircraft Profiles
To: Ed Metzger; VW1 Association
Sent: Friday, November 17, 2006 5:43 AM
Subject: VW-1 paint scheme
Hi VW-1 Association
I'm a avaition artist, who currently are working on a VW-1 (Red Devil 7) as it appeard in the mid-50. I'm doing a rendition for a former VW-1 crewmember and VW-1 association member, and i really hoep you can help me with a detail, which I would like to get 100 % correct.
Under the cockpit there painted a little red devil holding a trifork. If you have a high resolution picture of that, i (and my client of VW-1) woudl be really happy if you would send it to me !
In return i can offer you to make a association poster which you can post on your website (if you are interested).
At my website: www.aircraftprofiles.dk you can see what sort of work i do. Currently there's nearly 300 drawings, and among them there's more than a few Willy Victors. If you are interested i can make the PB-1W too.
I really hope you can help me with this project !
in advantage: thank you very much !
Kind regards
mads bangsÃÆ'Æ'Æ'ÃÆ'†'ÃÆ'Æ''ÃÆ''¸
aircraft profiles
From: Shannon Sharpe
To: Ed and Sally Metzger
Sent: Friday, August 18, 2006 11:09 AM
Last Jan, I was looking for some support for a claim I had filled with the VA. Even though I had flown out of Chu Lai and Da Nang in Viet Nam while assigned to VW-1, there was nothing in my records to indicate I had been there. I received letters from Lt Galinsky, LCDR Schmidt and Ch Warren. Chief Warren sent copies of our TDY orders. I also received a letter and pictures out of the 67 - 68 cruise book from our Flight Surgeon, Capt Ralph Nelson MD.
I submitted all of the "evidence" to the VA and was recently awarded a 40% disability based on diabetes and exposure to agent Orange..
Many thanks to those who remember and were willing to take the time to help a shipmate.
Shannon R. Sharpe
ATCS USN-Ret
Site Managers Note 8/18/2006: Ed Metzger sent me this e-mail from Shannon. Shannon's request for help had been placed on the military.com/vw-1 web page and in our quarterly news letter the "VW-1 TRACKER".

A special thanks from the VW-1 All Hands Alumni Association to all who helped Shannon out.
From:
To: Ed and Sally Metzger
Sent: Friday, August 04, 2006 12:03 AM
Subject: Guam
Hi Ed..I ran across your website searching for Guam photos from the 1950s. My dad SKC E.D. Havens and our family were stationed at the NAS in 1953. I`ve always been very nostalgic about our time there, and in fact got the chance to go back there for a short vacation in May 2005.
Anyway..my dad was in Supply with NAS Ops..but he also managed the CPO club (Fiddler`s Green) for a time. I`m always looking for pics of the NAS...but they`re really hard to find. And I`m especially looking for a pic of the CPO club when it was located on Central Ave. there in a quonset hut. It holds some important memories for me. Do you happen to remember it?
So.. the only way to try to get photos like these is by searching the websites of the aviation wings that were there on Guam. It`s a shame but the NAS has no website of it`s own...the NCS has a website..many of the aviation units have websites..but none for the NAS.
I was wondering if there is a way to post a message on your website`s message board in hopes of finding someone who might have a pic of the CPO club? If it`s ok, would you tell me how to go about doing that?
Thanks in advance..sincerely,
Dean Havens
Site Managers Note: If anyone can help Dean out with pictures of the OLD FIDDLERS GREEN CPO Club please do so. You can contact him at the information given in his other e-mail.. only a portion of this e-mail is shown below.

While passing through Guam in 1974 while attached to the USS Constellation I noticed that the new CPO club was built on the location of the old protestent chapel.
.
.
.
.. Sometime in the mid 50s to early 60s most of the quonsets on the NAS were razed and they rebuilt in concrete. So was the CPO Club..and it was moved to Sunset Avenue as well. That was the street that ran along the cliffline overlooking Agana and Tamuning. That structure is still there when I visited last year on my trip back. I had asked someone when I was there where the old CPO Club was and they directed me to the new one..I was pretty disappointed. But I have a Dept. of Public Works map of the NAS from 1952 that I got at the National Archives..so I went back to the map and found the original location. It`s at the south end of the runway..only the foundation remains.
On this map, every building on the NAS is named and numbered in a legend. If you have any interest, I could get you a digital photo of any given area on the base..and send it to you. The map itself is very large (3' x 5') so too expensive to copy..
Anyway..thanks again! I appreciate it very much...
Dean Havens
604 Brooklyn Ave. Apt. F
Oakland, Ca. 94606
510-839-4828
(by permission)
Subj: VW-1 Info
Date: 5/9/2006 11:21:59 AM Central Standard Time
From: lyle fisher
To: VW1Association
I happened to stumble into your site a while back and have been meaning to pass on some information for you. I was assigned to VW-1 form October 1961 to October 1963. I flew my whole tour with Crew 2 on TE-2 (145934). I was an AT-2 at the time and first radar tech.
The first item that I wanted to share with you is the WV2 that was received by VW-1 on 17 December 1954 and assigned tail number of TE-6 buno 135749 is the same aircraft that was later modified by the Martin company and assigned to VQ-1 as PR-21 ( I also did two tours in VQ-1). This is the same aircraft that was shotdown by the North Koreans on 15 April 1969. I saw PR-21's departure that April morning. I had never known that 135749 was a previous VW-1 aircraft!
The second item is the color radar picture in the Typhoon Karen part of the JTWC reports. The picture is in fact Typhoon Karen that I took with a hand held Petri 7 camera from the radar position IP203/APS-20 scope. It is a time exposure. I slewed the origin of the sweep just off the scope and when the sweep came on the scope I opened the shutter and closed it when the sweep left the scope at the bottom. Crew 2 on TE-2 flew out of Sangley Point on the night that Karen hit Guam and made one fix and returned to Sangley. We were about 90 nmi out of Guam when the picture was taken. The front-end crew was able to raise NAS Ground Control who reported winds of 100 knots at that time. It was obvious from the radar picture that the worst was yet to come. The southern end of Guam is clearly visible just outside of the biggest feeder band and the Island of Rota is clearly visible to the north (up). After I got these pictures developed I made copies for anyone that wanted one.
Thanks for the time and thanks for the great web site. Stay in-touch.
C. Lyle Fisher ATCS USN Retired
Site Managers Note 4/26/2006: Ed Metzger sent me this photo of a VW-1 patch that our supplier wants to present. Ed and Sally thought that they should leave it to the membership. Please contact Ed and Sally at the address below to express your thoughts on this patch.
---
Subj: Re: NEW PATCH
Date: 4/24/2006 7:13:06 PM Central Standard Time
From:
To: macpatch
CC: pete wasmund
Don
I'll forward the picture to my website manager. We'll put it on the site and see if there is any interest. May I ask where did this design come from? May I make a suggetion? If you would make the props on all four engines spaced 120 degrees apart as they actually are the aircraft would look a lot better.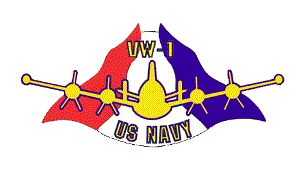 ED
Subj: Jimmie Johnson, ADR2
Date: 4/2/2006 3:58:41 PM Central Standard Time
From: Roy Zimmerman
CC: pete wasmund, Ed Metzger
Hi Guys,
I know Jimmie isn't a member of the VW-1 assoc., but thought you should know about him. I got a phone call a few minutes ago from his wife Cathy, and Jimmie is in pretty bad shape. He has been fighting Lymphoma for over a year now, and things are not going well. She told me that he now has a tumor in his armpit the size of a grapefruit. It has also spread to his lungs, liver, and bones. He is supposed to have the one removed from his armpit, and will be undergoing more chemotherapy. (The prognosis is not good). Jimmie was in VW-1 69-70, and I believe he flew with Neil Tennison. May be wrong about that though.
Cathy is wondering if anyone has any pictures of Jimmie when he was on Guam. Crew pictures, etc.
His address is
Jimmie Johnson
2357 E. Eaton Dr.
Terra Haute, In. 47802
Phone #
812-878-8414 cell
812-299-2594 home
A note, call, or pictures would be greatly appreciated.
Even a note in the TRACKER, Ed if possible.
Thanks,
Roy Zimmerman
Subj: Fw: Larry Markowitz needs your help!
Date: 3/28/2006 8:47:47 PM Central Standard Time
From: george dean
To: petewasmund
Larry was a technician on my crew, Crew 5 Good Guys, VW-1 Typhoon Trackers out of Guam in the early 60's. His team, last year, was the top fund raiser out of the participants in the Pittsburgh area. Feel free to forward this to others you know.
Can you / will you help ?
Just a little from a lot will help so much.
George Dean
----- Original Message -----
From: Larry Markowitz
To: george dean
Sent: Monday, March 27, 2006 11:07 PM
Subject: Larry Markowitz needs your help!
What if everyday you woke up not knowing if you'd be able to get out of bed or hold your child? For many people with multiple sclerosis, this is their reality.
Multiple sclerosis (MS) usually strikes adults in the prime of life - between the ages of 20 and 50. It is a chronic disease of the central nervous system affecting the brain and spinal cord. One new case of MS is diagnosed every hour. It comes and goes unpredictably, leaving people to wonder, "Will I become paralyzed, blind or have trouble walking? Will I be able to raise my family and continue my career?"
I am joining in the fight against this devastating disease. I will be participating in the MS Walk in Pittsburgh. I have a goal of raising ($ amount) to support the National MS Society. I am asking for your help in making my goal. Please click on the "To Sponsor Me" link below and sponsor me online today. Every dollar means that we are a step closer to a cure.
My team, Eeyore and Friends, are walking again in the MS WALK for a cure. This will be our seventh year with last year being our best ever in fund raising. Hopefully we can top that again this year. I can still walk, although some times it doesn't look that good, but I will walk. Any support, money or a prayer will be greatly appreciated. If sending a check please make it out to NMSS. Address here is
Larry Markowitz
3217 Old Pittsburgh Rd.
New Castle, Pa. 16101
I just might see some of the Super Bowl champs on our walk in Pittsburgh!
Thank you!
To sponsor me:
Click here
To visit My Personal Page :
Click here
For more information about this event:
Click here
For more information about the National MS Society:
Click here
SITE MANAGERS COMMENT: Hopefully this post will aid Larry and others in finding a cure for MS.
Subj: Found the name
Date: 3/27/2006 4:56:25 PM Central Standard Time
From: scott_bates
To: petewasmund
Dear Pete
I was able finally to find what I believe was the true reason for the name City of Naminoue for TE4. Woody VanKirk tells me he is pretty sure it was my father
(LCdr Robert M. Bates)
who decided on Naminoue. It turns out, that it is an actual place, though not a city. It happens to be a section of the city of Naha on Okinawa. And the name breaks down in Japanese characters as Nami No Ue, which translated means Over the waves. I got this from a web site called okinawa.com. And the translation shows me that it was a very appropriate name for a Typhoon Tracker, since the vast majority of your flights was definitely "over the waves".
I will never be able to repay you for your assistance. But you all continue to prove to me that VW-1 had the best people in the Navy. Thank you again!
Sincerely
Scott Bates
SITE MANAGERS COMMENT: Thanks for the info. I didn't know the translation for Naminoue either.
I concur with your observation about the guys in VW-1
Scott has been gathering detailed information about his father to further his memory. If you can assist Scott in showing his "son to father love" please respond to and I will forward your information to Scott.
Subj: RE: C-141
Date: 3/08/2006 9:51:56 AM Central Standard Time
From: Gary Oulman
To: George Dean
CC: pete wasmund
George,,,and all other great Navy friends out there: Your flying on a c-141 reminds me of when I flew back to Guam from Clark AFB in late ''71 or early ''72 . THIS IS MY STORY ON HOW I FLEW ON A C-141. I was with NAS Agana's 131659 C-121-J, flying from Atsugi Japan to Saigon, Vietnam. I had a head cold and blew out my right ear drum on climb out. After we unloaded cargo at Saigon, we flew to Sangley Pt. P. I. Once there, they put me in the hospital for about 10 days or so with a bad ear infection that had set in and man,,,,I was in pain. While I was in the hospital, the base was closing down; All the fine Filipino's were upset at the loss of peso to their economy. Anyway, three times the Huckapenos crashed the main gate, shooting the marines on guard duty; One time they robbed the Navy Exchange, one time the CPO club and the last time they hit the bank. They killed the marine machine gunners at the front of the bank and then went inside and killed a marine officer on duty. All this in day light hours using a step van truck. (By the way, they made a slick get-away each time.) Anyway, back to my C-141 story: When I was well enough to fly back to Guam, I got on a C-47 and flew back to Clark. Once at Clark, I checked in at MATS for a hop home, only to be told I could not fly without orders, and I could not fly in a flight suit. All I had was a flight suit, and civies and was on orders for the flights for R and R and cargo runs from NAS Agana Guam aboard 659. I had to call the operation officer in Sangley to get the C.O. to authorize my flight suit and flying with no orders. So to make my short story long; They put me on a MATS C-141 aircraft to Anderson AFB, Guam. I might just have been the last connie crew member to leave NAS Sangley Pt. Phillipines. Also, I have been in contact with Joe Bradish; he was a crew member on 131659 at the same time I was. He is married to a lady from the Phillipines and he returns there upon occasion. He said the scuttle butt is that Marie T was killed by her nephew over money. If this is true, West Pac lost an outstanding honorary crew member. So,,,,If any of you " Connie" people were in Sangley after I was,,,let's see your story. Gary
Site Managers Note 3/7/2006: I came into contact with Rlene Steffy, a resident of Guam, investigative journalist and oral historian quite by accident several weeks ago and wanted to introduce her to our members and other visitors to this site. We have exchanged many e-mails since the initial contacts shown below. Several of our site contributors have been included in this exchange of e-mails. Rlene's and my views on preserving the identity of the information source is the same.
If you look at her website,
http://www.rlenelive.com/index.html
you will see that she is quite active in preserving the history of Micronesia and Guam. She would welcome your comments and pictures about and from the days you were in Micronesia. If your information and or pictures are used by Rlene your name will be credited in the history of Guam.
Rlene's e-mail address can be found on her website.
Her response to my inquiry is shown first.
---
Subj: RE: Picture request
Date: 2/17/2006 4:51:56 AM Central Standard Time
From: rlene steffy
To: pete wasmund
Pete,
Thank you for your inquiry. I am willing to assist you since I would do almost anything to promote Guam. What you ask is not difficult, especially since I have many photos of the island. However, many of my photos have not been published for good reason. I am working on a publication and will use them for that.
If I were to provide you with a gallery of island photos, would you agree to my watermarking them? I don't even have them on my site, and if you want to use what's on my site, you can link to the photos. I currently have 0-360 clips of some things on my site that you can view. Have you seen them?
I have typhoon damage shots, but have to dig them out. I don't have fiesta shots but do have Two Lover's Point and other Island spot shots. The problem I have is I am out of here in two days and won't be back until the end of the month.
How soon do need these photos?
Also, view this link on my site and let me know what you think?
http://www.rlenelive.com/index.html
---
Subj: Picture request
Date: 2/16/2006 10:14:10 AM Central Standard Time
From: pete wasmund
To: rlene steffy
Ms. Steffy:
My Name is Pete Wasmund, I was stationed at NAS Agana Guam with the VW-1 "Typhoon Trackers" in the early to middle '60's. Your address came to me by way of a mutual friend of a mutual friend.
I noted with much interest that you are living on Guam. I am the website manager of the "VW-1 All Hands Alumni Association" the URL is
http://vw1assoc.tripod.com/
. We are made up of 200+ officers and men who were assigned to VW-1 through out its 19 years of being commissioned as a Navy squadron. VW-1 was commissioned in 1952 at Barbers Pt. Hawaii, was reassigned to Guam in 1957 and was decommissioned in 1971.
Most of our members fondly recall and relive memories of Guam, as the saying was back then "Duva is Devine".
I would like to ask if you would be willing to provide pictures of Guam that I could post on our website. We do have many photos of Guam that were provided to me by our members and site visitors. The direct link to the majority of these pictures are at
http://vw1assoc.tripod.com/duvapix.html
. I lack pictures of the various villages around the island, fiesta's, Liberation Day parade's, typhoon damage etc. A picture of "Two Lovers Leap" as viewed from the air station would be most welcome, my wife and I had this view from our living room window the first time we were stationed on Guam. We lived about 2 blocks north of the air stations out door movie theater the "Agana Bowl".
Any pictures that you would provide would be given full credit as per your wishes.
Regards,
Pete Wasmund
Website Manager
VW-1 All Hands Alumni Association