NEW ARRIVALS to Guam have been amused or saddened (depending on their frame of mind at the time) at a sign which tells them they are at the crossroads of the Pacific, latitude 13 degrees, elevation 600 feet, longitude 142 degrees.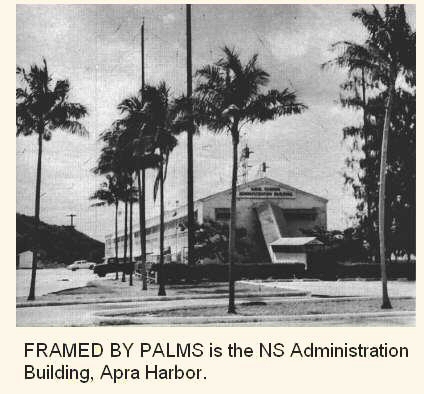 Beneath this announcement arrows point in various directions indicating the viewer is 8083 miles from New York City, 3156 miles from Pago Pago and 1822 miles from Hong Kong.
Another sign makes it known that Guam is Headquarters for the Commander Naval Forces Marianas.
Guam is not the only island west of Hawaii which claims to be a Pacific crossroads. It is however an island which has on it the flag responsible for the security of two and one half million square miles of the Pacific Ocean.
The flag officer, RADM Thomas A. Christopher, USN is not only Commander Naval Forces Marianas, he is Deputy Governor to the Commander-in-Chief Pacific fleet for the islands of the Bonin and Volcano groups (about 800 miles north of Guam), and is also responsible for the Marcus and Caroline Islands and for the U. S. Naval Facility, Chichi Jima.
It is his primary duty to support the forces afloat and coordinate all efforts in communications, logistics, weather reconnaissance, ship routing and search and rescue operations.
A LOT OF WORK gets done in this domain. Literally hundreds of islands and coral atolls are kept under air and surface surveillance.
The islands and atolls south of Guam are held under the trusteeship of the United Nations with their direction charged to the U. S. Department of Interior.
Some of the islands north of Guam are stategically important to the United States and are administered by the Navy. Geographically, Guam is just about in the center of this area.
Guam claims to be the westernmost outpost of United States soil not bounded by or dependent upon treaty agreement.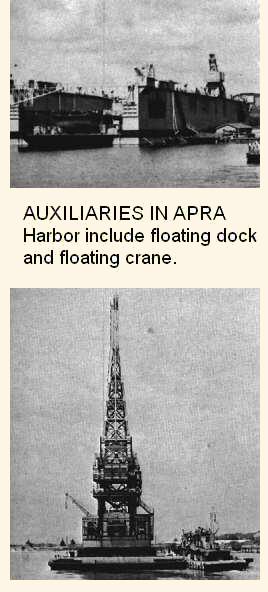 Her natural harbor and existing facilities can be expanded to meet almost all requirements for the support of the Fleet in time of need.
The flag officer on Guam has plenty of help in carrying out his mission. Some of this help comes from the U. S. Naval Station whose motto, incidentally is "Semper Fidelis Adjutor" (Always a Faithful Helper)
THERE WAS A TIME When the Naval Station wasn't just a helper, it was the whole show-the entire island of Guam. When the formal government of Guam was established in 1899, the island was designated a U. S. Naval Station.
From 1899 until the capture of of island by the Japanese in December 1941, the commanding officer of the Naval Station was also the Governor of Guam.
In July of 1944, a U. S. unit designated "Lion Six" landed on Guam. Its job was simply furnish everything needed for the operation of a base.
In October of 1944 Lion Six was converted into the Naval Operating Base, a command with every type of Fleet service.
The Naval Station was reestablished as a component of the Naval Operating Base in March 1952 and later reassigned to the Military Command of Commander Naval Forces Marianas. It still performs many of the functions of the Naval Operating Base.
It is located on about 1000 acres of land next to Apra Harbor and its barracks have a capacity of approximately 2000 men.
At the Naval Station harbor movements are coordinated, berths and pilots are assigned and a general eye is kept on the whereabouts of ships in port.
About 3000 people a month are treated at the Naval Station dispensary which also gives more than 2000 immunizations a month.
Its special services operates beaches, swimming pools, hobby shops, a skeet range, baseball and softball diamonds, a football field, bowling alley, basketball courts, tennis courts and movies. There are also a commissary store and Navy exchange on board.
ANY ACTIVITY which has the responsibility centered in Guam might reasonably be expected to have supply problems. Guam is no exception, and its problems are very adequately handled by the U. S. Naval Supply Depot.
The present depot grew out of Lion Six. Its first stock began hitting the beach on 7 Aug 1944 and it hasn't stopped yet.
The depot's growth during its first year of existence was phenomenal. From two "alligators" on Agat Beach, it burgeoned upward to almost two million square feet of covered warehouse space, 530,000 cubic feet of reefer space, a fuel storage capacity of more than a million barrels, 502,000 square feet of transit sheds and vast areas to be used for open storage.
The entire depot covered nearly 6500 acres and unloaded as many as 120 Liberty ships and 20 tankers a month. During this period the fuel branch serviced an average of 74 ships daily.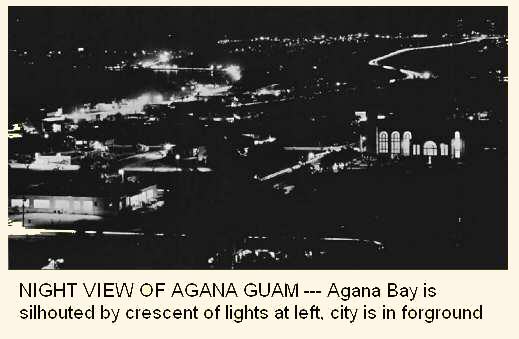 Its total issue exceeded a billion dollars in its first ten months. Like so many other things in the global war, nothing like it had existed before and nothing like it has been known since. It served so many "shoppers" that it was called the Pacific Supermarket.
Since the end of the war, the depot has shrunk to a still impressive 1850 acres in the Apra Harbor area. Most of the quonsets which provided the wartime covered storage space have been replaced by six modern warehouses and two transit sheds. The depot employs a Single Service Land Transportation System which averages 379,000 miles each year delivering more than 153,000 tons.
To perform complete marine terminal services for all military activities on Guam and furnish limited support to the Fleet, the supply depot must handle between 21,000 and 30,000 measurement tons a month and carry an inventory of 83,000 items valued at $24,600,000.
NAVY AVIATORS looking for the Naval Air Station upon arrival at Guam will find it located at about the center of the island. It has an elevation of 280 feet and encompasses more than 1800 acres of land. It was developed from a small Japanese airstrip of packed coral and, by the end of the war, had about 1150 temporary advance base type buildings housing the various activities located in an area north of the runways.
The runways were built as permanent facilities paved with asphaltic concrete and were served by suitable taxiways and hardstands. As the wartime facilities became over-age, development was begun on the south side of the field. In time, the only permanent facilities remaining on the north side were the officers' quarters and the married enlisted men's quarters.
Today NAS, Agana has two parallel asphaltic concrete runways, 10,000 and 6600 feet long. The Apra Harbor seadrome is also operated by NAS, Agana and has one 8250-by-1200-foot sea lane available for flight operations and limited ramping facilities.
It is and has been the job of the Agana Naval Air Station to support the Navy, Marine Corps, MATS, and other aviation units assigned to or passing through it.
It also maintains control of aviation supplies and supply activities; controls maintenance, repair and overhaul; coordinates logistic support of air groups based in the Marianas and provides aircraft facilities, equipment and personnel for search and rescue activities.
The outfit which keeps Guam in touch with other American outposts and the world is the Naval Communication Station located atop a large plateau on the northwest side of the island.
It is the primary relay station in the Navy's communications network. The station covers about 6000 acres and is one of the most modern facilities on the island.
Receiver and terminal facilities (where messages are processed and relayed) are both located at Finegayan.
Transmission facilities are a Barrigada, where transmitter and antennas send out messages day and night.
Another station combining both receiver and transmitter functions is located on the island's nothernmost tip.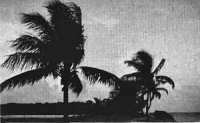 All operational buildings on the Naval Communication Station are less than eight years old and typhoon-proof-and last November everbody on board was glad of that.
The necessity for typhoon-proof buildings was pointed out by Typhoon Allyn in 1949. The onset of the Korean action, shortly thereafter, made a permanent construction necessary.
NAVCOMSTA Finegayan is one of the Navy's busiest communications stations, its average monthly load running in to millions of groups.
In addition, it broadcasts time signals to merchant ships. handles message traffic for the Coast Guard, U. S. Air Force, the High Commissioner of the Trust Territory and most other federal agencies on Guam.
When ships (AO size or smaller) in the nighborhood of Guam find themselves in the need of repair, they know they can head for the Navy's Ship Repair Facility, located on the west side of the entrance to inner Apra Harbor.
THE SHIP REPAIR FACILITY came into being in 1945 as the INdustrial Department of the Naval Operating Base, Marianas.
Until 1956 it was manned by military personnel. After July 1956, however, military personnel were replaced by civilian contract personnel.
The shops are divided into structural, mechanical, wood-working and services groups and an electronics shop.
The yard has two floating drydocks under its operational control. One has a rated lifting capacity of 18,000 tons and the other has a capacity of 3500 tons.
In addition to repairing, altering, converting and overhauling local and Seventh Fleet ships, the ship repair facility supervises the installation and maintenance of shore electronics equipment and provides emergency voyage repairs to civilian commercial vessels while they are in Apra Harbor.
Typhoons have always been a threat to ships and shore installations in the Pacific from Guam to Japan. Although a victim of last fall's disastrous typhoon Karen, Guam is better located then many installations because most typhoons are born near the islands and produce little more than above average wind and rain.
Because of Guam's position, Navy-men stationed there are able to study a storm, chart its characteristics and send an analysis to local military and civilian authorities and to forces afloat and in the air.
Many times in the past, Fleet Weather Central and the Joint Typhoon Warning Center located here have provided warning of a dangerous typhoon, thus saving lives and preventing loss of property.
The eyes of Fleet Weather Central and the Joint Typhoon Warning Center are represented in Guam by Airborne Early Warning Squadron One, a land based unit of the Seventh Fleet located at NAS Agana.
When VW-1 flies weather reconnaissance, it takes off in hot persuit of a developing typhoon, plots the course of the storm and penetrates its eye.
The weather information it gathers is transmitted to FWC/JTWC for relay to all activities concerned.
Armed forces would be pretty ineffective without ammunition, and in Guam such ammo and explosives are stored at the U. S. Naval Magazine.
The Magazine receives, inspects, renovates, stores and issues ammuntition and explosives that help provide the fire power for the Seventh Fleet.
It also provides tri-service land transportation of ammunition on Guam and explosive ordnance disposal and reef-blasing service on Guam, throughout the Pacific Trust territory and the Bonin-Volcano Islands.
The Magazine is located on 6200 acres safely isolated from populated areas and other military activites
It has 278 buildings and structures and is held together by 35 miles of roadways that run through its tropical forests.
Like almost everthing else on Guam, the Naval Magazine reached the peak of its activity during World War II, when it stored 75,000 tons of ammunition and received and shipped about 30,000 tons a month.
The depot's workload has declined since then but it maintains a level capable of providing day to day Fleet support and the capability of immediate expansion in case of future Pacific area hostilties.
Many a sick or injured Navyman in the Pacific area has been treated at the Naval hospital overlooking Agana Bay, or had his teeth worked on at the U. S. Naval Dental Clinic in Guam The good health of military and civilian populace of Guam is due largely to the efforts of U. S. Medics in the past and their continuing efforts in the present.
The Naval Hospital traces its ancestry back to 1898 and the arrival of Ammen Farenholt, a Navy Medical Officer who landed with the first American forces on Guam during the Spanish-American War.
Guam has been American for quite a while. Those who go there are at first suprised, and pleased, when they find themselves draped with leis upon arrival. The pleasure grows as they discover they are surrounded by miles of white sand beaches, picnic areas, swaying palms, hibiscus, and beach morning-glories.
On Guam, polluted air, traffic jams and blizzards are things of your past. Undoubtedly the island is of great stragic importance to the United States. It is also beautiful, and loyal citizens and dedicated naval personnel are busy at the task returning its facilities to the same (or better) standards that existed before the recent visit of Karen. --Robert Neil