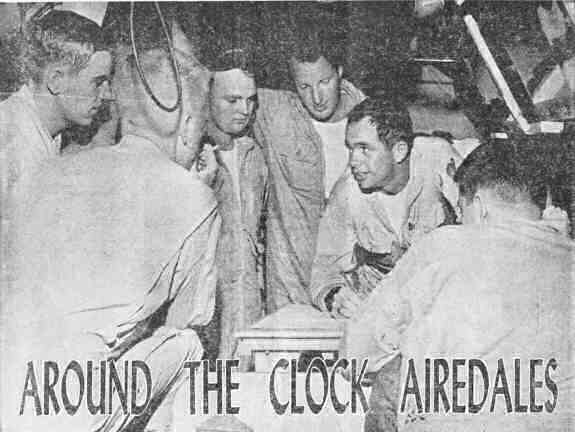 EN ROUTE home, final briefing is given crew by Lt. (j.g.) Fowlkes. Rapid movement and changing situations during flights require keeping all men posted.
One look at the weird bumps protruding from the Super Constellations of Airborne Early Warning Sq. 1 tells you there is something very special and different about these U.S. Navy planes. There is, and it's more than just their strange shape and size.
These WV-2s are radar-packed. long range sentinels in the sky- "The Aerial Eyes of the Fleet."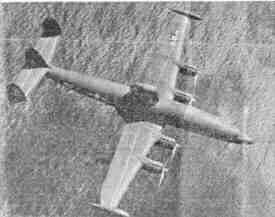 One of the fleet's "airborne eyes," WV-2 cruises its assigned station, scanning Pacific sea and skies.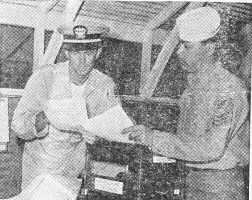 SUDDEN call from desk job to plane can come when operations require it. Lt. (j.g.) Albert Fowlkes swiftly reviews administrative matters with YN1 A. Castillo, then makes a dash for his aircraft.
Based at centrally-located Agana, Guam, the squadron deploys its electronic-eyed Connies throughout the western Pacific area to provide "around-the-clock" airborne combat information center services for the fast-moving Seventh Fleet.
Loaded with about 6½ tons of electronic and electrical equipment, the Combat Information Centers aboard each plane not only compare favorably with most ship-board radar, but also have the additional advantage of height.
Airborne Early Warning is based upon the fact that radar works on a line of sight principle. Consequently, the higher the radar antenna, the greater the theoretical detection range.
While the primary mission of the AEWRON ONE is early detection and warning, the big Super Connies are capable of performing a variety of other tasks.
Some of these additional missions are controlling- other aircraft, tracking and reporting air contacts, providing communications relay services and weather reconnaissance and typhoon tracking. HIGH in the sky, a WV-2's radar has longer range than ground-based one, plus further advantage of mobility.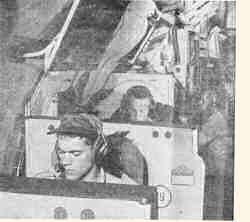 CIC crew searches for "bogies" during fleet exercise.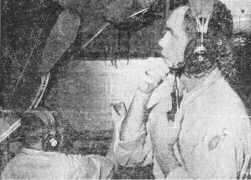 PERFORMANCE of each radar scanner is checked by the CIC officer. Lengthy telephone cord permits him to roam the giant plane.
The long, cruising - range of the WV-2 allows the plane to fly for 15 or even 20 hours on station. To insure maximum efficiency, relief crewmen are carried on all these long flights.
Though requests for airborne early warning services sometime provide little advance notice, the squadron has an impressive record for meeting Fleet AEW requirements. One reason for this top notch performance is that AEWRON ONE'S planes are frequently participating in Fleet exercises from advance bases in Japan, Okinawa, the Philippines and Iwo Jima.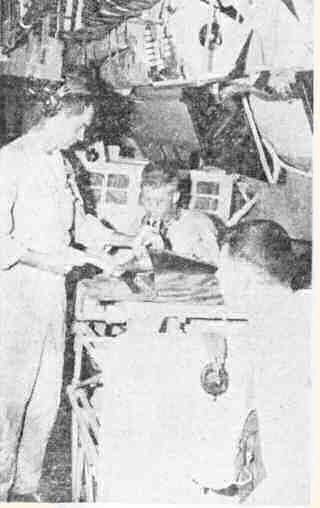 END of long, long day comes as the Super Connie wings homeward, having covered its assigned area. Crew can stow charts, relax, really enjoy a smoke.
Originally stationed at Barber's Point in the Hawaiian Islands, the squadron was moved to Guam last summer.
While based at Barber's Point, AEWRON ONE maintained a permanent detachment in the western Pacific. The detachment was first based at Atsugi, Japan, but was moved to Cubi Point in the Philippines in 1956.
After the squadron's relocation on Guam, the permanent detachment was abolished, since, from Guam, the squadron can send its aircraft establish temporary detachments wherever required.
AEWRON ONE was the first land-based squadron of its type in the Pacific. It is now commanded by Capt. Robert H. Wood.
Though the Navy began experiments for placing search radar in aircraft to combat low level enemy plane attacks during World War II, the fighting ended before airborne early warning became an operational fleet weapon.
Continued experiments revealed the vast potentialities of airborne radar. Today it has come into its own as an important part of the fleet's weapons arsenal. Perhaps even the most important, since the aerial eyes of the fleet must be constantly alert to locate and relay that bit of important Intelligence which might very well be the difference between being ready to meet an attack or being caught unprepared.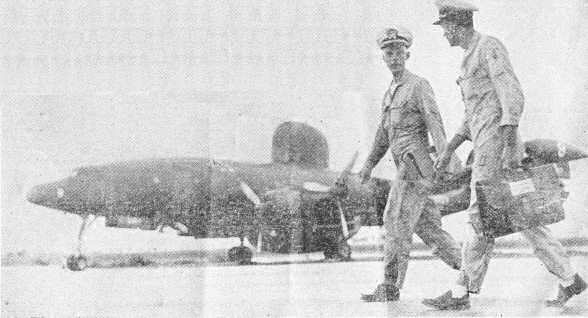 Long walk from the squadron's ready room to aircraft parked on the line gives Lt. (j.g.) Fowlkes (above, right) time to discuss its equipment with Lt. (j.g.) Sam Roper, one of the squadron's electronic specialists.