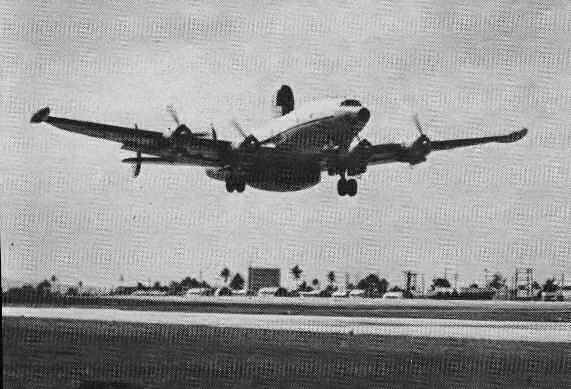 SUPER CONNIE LIFTS OFF RUNWAY AT AGANA NAS, GUAM.
AGANA NAS GUAM (Special)-Airborne Early Warning Sq. 1 (VW-1) will formally close out 19 years of service July 1 and will be absorbed by Fleet Air Reconnaissance Sq. 1 (VQ1).
Because typhoon reconnaissance remains vital to American military units in the Pacific, as well as to the governments of Pacific area nations, accurate and timely warning will continue to be provided by VQ1.
VW-1 was established June 18, 1952, at Barber's Point NAS, Hawaii, to provide the fleet with long-range radar protection.
In 1961, the squadron - nicknamed "Willy Victors" - mission was modified to weather reconnaissance and secondary emphasis on early warning.
Its planes then served as airborne weather stations and the crews flew reconnaissance flights ranging from Midway Island to U-Tapao, Thailand; from Japan to Kwajalein, and to the West Coast of the U.S.
Additional responsibilities came to the squadron following the Gulf of Tonkin incident of August, 1964 when the commander of the U.S. 7th Fleet ordered the squadron to fly daily early warning flights in support of fleet units in Southeast Asia.
For 6½ years the squadron flew combat support missions in the Gulf of Tonkin and only recently ceased that operation. VW-1 took over the added task of training all Navy pilots, air-crewmen and maintenance personnel for C121 aircraft in the Western Pacific.
Ten years of flying into the "eye" of raging typhoons earned the squadron the honorific "typhoon trackers" for its Super Constellations and their crews.
Cmdr. John R. Sill, commander of VW-1, will preside July 1 over the decommissioning ceremonies.