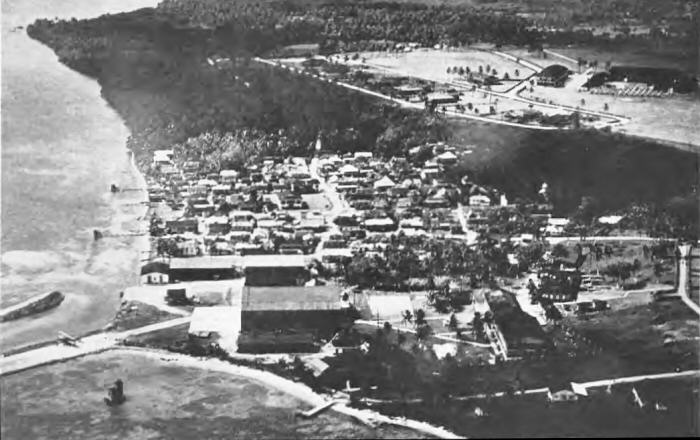 THIS PRE-WAR AIR VIEW OF OROTE PENINSULA, GUAM, SHOWS THE TOWN OF SUMAY, PAN AMERICAN AIRWAYS FACILITIES AND MARINE RESERVATION.
MAGELLAN DISCOVERED MARIANAS
ON HIS GLOBE-CIRCLING VOYAGE
A BOW-SHAPED CURVE of tiny green islands, the Marianas are the southernmost volcanic peaks of a gigantic mountain range rising almost six miles from the ocean bed in one of the deepest known parts of the Pacific. This range discovered by Magellan on his epoch-making first voyage around the world in 1521, extends north and south over 1300 miles, forming a series of island stepping stones from Japan through the Marianas to Guam. The largest and southernmost of the island group, Guam was destined to become an important stopping place on the long voyage between America and the Philippines because of its good harbor and abundant resources.
The island has an area of about 225 square miles, almost as large as the 14 other Marianas together. It is the largest island in the North Pacific between the Philippines and Hawaii and between Japan and New Guinea. Port Apra on the west coast of Guam is the best natural harbor in this entire area of the Pacific. It was here, adjacent to the town of Sumay, that the U.S. Naval Government set up Marine Reservation and built the Pan American Airways base shown above. During the bombardment this area was almost entirely destroyed, and great damage was done to the airfield.

U.S. Marines wading ashore on Agat Beach on Guam pass an upside down Jap Val dive bomber destroyed by Navy planes in pre-invasion missions over the island. Guam was invaded by Marines and Army troops on July 20 1944. Island was retaken in August.