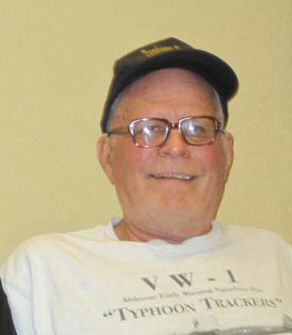 Bill Kemp ADC USN (ret)
Born 1933;
Died Aug, 7, 2014;
VW-1 1968-1971;
Mr. William Fitzhugh Lee "Pop" Kemp Sr., age 81 died Thursday evening at the Ogeechee Area Hospice Inpatient Facility. The native of San Diego, Calif., moved with his father's military career, living in Norfolk, VA., Jacksonville, FL., NewPort, R.I., and returning to Jacksonville, Fla. He was a 1952 graduate of Robert E. Lee High School in Jacksonville. Upon his graduation, Mr. Kemp joined the U.S. Navy, in which he served for the next 25 years, retiring in 1975. During his military career, he served in the Vietnam and Korean wars.
Following his retirement, Bill and his family relocated to Brooklet, Ga., where he worked for several years with Shaw Grain Company. Bill then began a career with Gulfstream, and in 1984 he moved to Oklahoma City, until his retirement in 1991. Following his employment with Gulfstream, Bill assumed another quality control position with McDonnel Douglas and traveled throughout the U.S. working with RAMS Team (Recovery and Modification Services) until his retirement in 1996. Following his retirement, he and his wife returned to Bulloch County, living in Portal, Ga.
Bill was active in many military organizations, including VW1 Assoc. and Fleet Reserve Assoc. He enjoyed traveling, and especially his cruises to the Caribbean.
Mr. Kemp was preceded in death by his wife, Ann Hollingsworth King Kemp; and a son, Bill Kemp Jr.
Surviving are a daughter, Genevieve "Ginny" Kemp of Portal; two sons and three daughters-in-law, Bob and Sheila Kemp of Portal and Jeff and Tammy Kemp of Chattanooga, Tenn., and Angie Kemp of Gibson; four grandsons, William F. Kemp III, Andrew Chandler Kemp, Joshua Issac Kemp and Aidan Miles Kemp; a sister and brother-in-law, Dora and Larry Cochran of Orlando , Fla.; and two brothers and a sister-in-law, John and Betty Kemp of Winter Park, Fla., and Charlie Kemp of Jacksonville Beach, Fla.
Visitation will be Monday, August 11, 2014, from 5-7 p.m. at Joiner-Anderson Funeral Home in Statesboro.
The funeral service will be Tuesday, August 12, 2014, at 11 in the chapel of Joiner-Anderson Funeral Home with the Rev. Scott Seagraves officiating, Interment will be in the Georgia Veterans Memorial Cemetery in Glennville, Ga. at 1 p.m.
Pall bearers will be Joshua Kemp, Andrew Kemp, Bill Kemp, Jesse Barnett, Dave Millikan, Michael John Kemp and Max Donaldson.
The family requests that memorial contributions be made to Ogeechee Area Hospice, P.O. Box 531, Statesboro, Ga. 30459
Friends may sign the online regiser book at www.joineranderson.com
Joiner-Anderson Funeral Home of Statesboro is in charge of the arrangements.