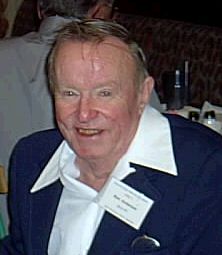 Born Nov. 16, 1926:
Died Feb. 25, 2008:
VW-1 1965-1967
Ron was born in Dodge City, KS and married Carolyn Lighter on February 2nd 1950. He had 20,000 hours as a flight engineer on the Super connie. He served in VW-16; VW-14, Hawaii; VW-11, Argentia; VW-1 Guam; and did two tours at Pt. Magu, CA. He retired after 30 years of service on August 30 1977. He received the Navy Achievement Medal.
No one who was at the 2003 Reno, NV reunion will ever forget Ron and Carolyn. He was in a wheelchair and his shipmates physically wheeled him out and about when we went to the buffet at the casino, followed by the Magician's show.
He had us worried when he complained that his stomach hurt and it was our fault. Then he explained that it was from laughing so much from the antics at the auction the previous evening. It is a great source of joy we feel that our Association was able to bring a bit of pleasure to him.
Our prayers and sympathy go out to you, Carolyn.