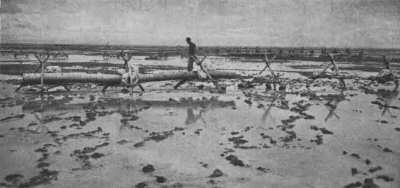 PHOTOGRAPHS on this page show the variety of different ways the Japanese have found to make use of simple natural materials to build barricade defenses on their island fortresses in the Pacific. Landing boats must run the gauntlet of boat obstacles made of coral and stone piled inside logs and other types of under-water barriers built of coconut logs weighted down by coral to give added strength.
Once inside these boat obstacles, landing troops still must make their way through rows of barbed wire arranged to slow up landing and direct troops toward positions heavily protected by machine gun and rifle fire. Zig-zag lines of barbed wire supported on short sticks just above the ground are hidden in the low underbrush to impede progress. Sharpened bamboo sticks projecting from the ground add to the effectiveness of this type barricade.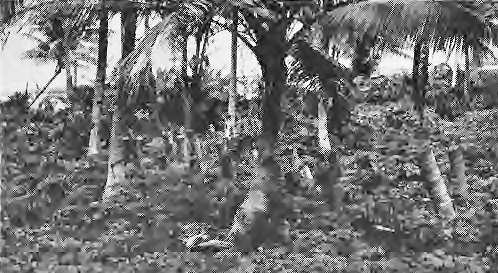 COCONUT LOGS FORM TANK BARRIER WITH LOW SHRUBS FOR CAMOUFLAGE.


ROWS OF BARBED WIRE COVERED BY TIDE SLOW TROOPS BEACH LANDING.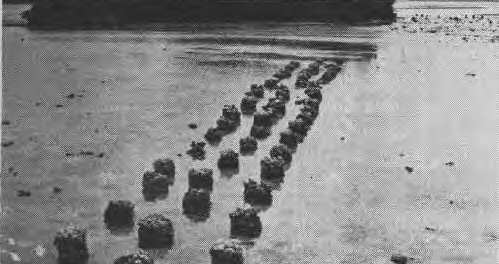 ROWS OF CORAL AND STONES IN SHALLOW WATERS IMPEDE LANDING BOATS.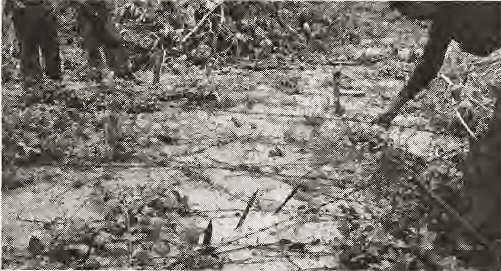 BARBED WIRE INTERSPERSED WITH SHARP BAMBOO STICKS SLOWS TROOPS.
Interpretation of pre-invasion photographs has made it possible for allied bombers to blast a path through natural and man-made obstacles with. which the Japs have surrounded their island fortresses, greatly lessening loss of life.