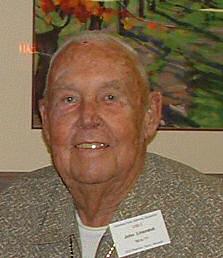 John A. Linendoll LCdr USN (Ret)
Born July 22, 1921;
Died May 22, 2006
VW-1 1968 - 1971
John A. Linendoll, 84, of Oxnard entered the celestial lodge and returned to our God on Monday, May 22, 2006. He was a just and upright citizen of our country and to his family.
John was born in Providence, R.I., on July 22, 1921. He was a graduate of South High School, Denver, Colo., and attended University of Colorado at Boulder. John had lived in Oxnard since 1970, moving to the area after retirement from the U.S. Navy.
John retired as a lieutenant commander in the U.S. Navy after an illustrious, 30-year career. He enlisted in July 1942 at the age of 21 and continued his career after World War II, serving during the Korean and Vietnam conflicts. He was the epitome of the "greatest generation."
Johns last tour of overseas service was at NAS Agana Guam with VW-1 on TE-11 as CIC and Tactics Officer. John and his wife Joetta attended the VW-1 All Hands Alumni Association reunion at Reno NV. in September 2003.
After retiring from the Navy, John had a prosperous real estate career. John joined the Masonic organization in Hollywood, Md., in 1959. He was also a member of Scottish Rite, York Rite, Shrine, Allied Masonic Degrees, Red Cross of Constantine, National Sojourners, and Heroes of '76 and served as past national vommander of Heroes of '76 (1999-2000). He was presented the Van Deventer Award of the National Heroes in 2002. He was a good and obedient servant of the Craft. John was a member of the Elks and Naval Officers Retired Association. John served his community well and was involved with the local ROTC, giving awards and honors to deserving cadets.
John is survived by his wife of 59 years, Joetta; sister, Mary Linendoll Gerke; daughters, Joanie Linendoll and companion James A. Wilson of Oxnard and Vivian and husband William Weiner of San Diego; grandsons, Edward A. Miller, Brian G. Miller, Adam M. Weiner and Benjamin A. Weiner; and great-granddaughters, Angelica A. Miller, Shelby L. Miller, Erica L. Miller, and Malloreigh L. Miller.
The family requests that memorial contributions be made to Oxnard Masonic Center, 341 South K St., Oxnard, CA 93030.
A Masonic memorial service, open to the public, to celebrate the life of John will be held at 10 a.m. Thursday, May 25, at Oxnard Masonic Center 341 South K St., Oxnard. A reception will follow.