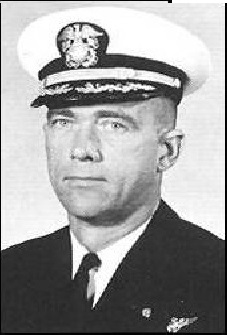 John C.
Mape
CDR USN
Born: Sept. 24, 1925
Died (Killed) April 13, 1966
USN: 1949 - April 13,1966
VW-1: June 18,1952 - 1954
John C. Mape CDR USN, killed in action in 1966. John (Jack) was born on September 24, 1925 in Dublin, Ohio. In 1949 he completed his pre-flight training at NAS Pensacola, Florida and received his wings at NAS Meridian, Mississippi in 1950.
His first duty assignment was VT-10. Jack was transferred in 1951 to VC-11 Detachment based at NAAS Miramar, San Diego, California. In 1952 the Detachment was transferred to Hawaii, where on June 18, 1952 it was established as Air Borne Early Warning Squadron One ( VW-1). LTjg Mape was a Plank Owner of the Squadron and flew as a Plane Commander of PB-1W's. He was a member of VW-1 Detachment 'A' that was deployed to Japan in February 1953 for service in Korea. Jack flew combat mission over North Korea in February - Match 1953. In 1954 he was transferred to NAS Jacksonville, Florida.
While serving at NAS Jacksonville he was promoted to LCDR. In 1962 he was assigned to Attack Squadron Fifty Two (VA-52). Which was deployed to Vietnam aboard the Carrier USS TICONDEROGA, CVA-14 from April 14, 1964 to May 13, 1964. He was promoted to CDR and in 1965 became the Commanding Officer of VA-52. VA-52 was again deployed to Vietnam on the USS TICONDEROGA, CVA-14 from Sept.1965 to May 1966. CDR Mape was awarded the Distinguished Flying Cross for his actions on November 12, 1965. As Flight Leader CDR Mape and his flight of A-1H (AD-6) aircraft provided close air support for surrounded elements of the 3d Brigade, 1st Infantry Division, U.S. Army, during the Battle of Bau Bang, Republic of Vietnam.
In the face of heavy enemy automatic weapons fire, he led his flight in repeated bombing and strafing attacks against the Viet Cong. The intensity of these attacks and the determination with which they were executed resulted in heavy casualties for the Viet Cong, which broke the impetus of their attack. CDR Mape's courage throughout this action was in keeping with the highest traditions of the Navy.
CDR Mape was later shot down by a surface-to-air missile over North Vietnam on April 13,1966. His remains were found and returned to the US on January 16,1998 and positively identified on February 19,1999. He is buried in Golden Gate National Cemetery, San Bruno, California.
I often flew with CDR Mape, both in VC-11 Det. and VW-1. He was a fine Officer and an excellent Pilot. Six years after leaving the Navy I had the privilege of attending an evening class at Jacksonville University with then LCDR Mape. We spent most of our break time reminiscing about our time in VC-11 and VW-1 and what our old shipmates were now doing.
George E Stewart VC-11 Det. & VW-1