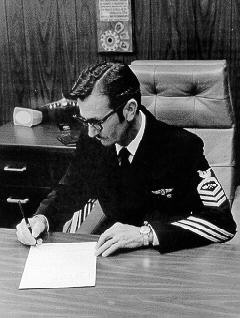 Floyd B. Yancy AMCS USNR(Ret.)
Born Nov. 4, 1930;
Died Jan. 23, 2013;
VW-1 7/18/1952 - 7/12/1954;
Floyd B Yancy, AMCS Retired, passed away in his home in Powder Springs, Georgia at the age of 82 on January 23, 2013. Floyd was born in Jackson County Alabama on November 4, 1930. He joined the U.S. Navy at Chattanooga, Tennessee on December 18, 1951 and completed Boot Camp at NTC San Diego California on March 20. 1952. The following "Paragraph" and the fourth were written by Floyd a few years ago describing his Naval Service of 20 years, to add to his Profile on the Navylog Web-Site..
"Floyd Berry Yancy, joined the Navy on 18 December 1951, at Chattanooga. TN. Attended Recruit Training at NTC San Diego, CA. Graduated 20 March 1952. Reported to U.S. Navy Receiving Station. San Diego, CA on 7 April 1952, with orders to Seaplane Tender U.S.S Salsbury Sound AV -13. Departed San Diego on board U.S.S. Hectar AR-7 On 25 April 1952. Reported aboard Flag Admin. Unit, Comfair. Hawaii on 4 May 1952. Assigned to Fleet Air Wing Two for duty until the Salsbury Sound comes into port at Pearl Harbor. Requested and received orders to a newly formed squadron. Airborne Early Warning Squadron One (VW-1) on 18 July 1952. My first squadron. VW-1 was one of the first Navy Radar Early Warning Sqd's. It was commissioned on 18 June 1952 at NAS, Barbers Point, Hawaii under the command of Cdr. F.P. Anderson The squadron started with 4 converted B-17 Aircraft (PB-1 W) and was soon replaced by Lockheed Constellations. Transferred to Fasron 12, NAS Miramar, San Diego, CA on 2 May 1954. Reported aboard 4 June 1954. Transferred to NAS North Island, San Diego, CA. on 2 July 1954. Released to inactive duty on 17 December 1955."
Floyd and his wife Ethel Adkins Yancy, who he married in Trenton, Georgia while on Leave in 1954, returned to Alabama after his release from the Navy. He worked in several jobs over the next eight years. Then working days, he went to Night School and obtained his High School Diploma. During these eight years two Daughters and three Sons were born to the Yancys. The Family then moved to Chattanooga where Floyd took a night job so he could attended a Business Collage full time. After completing two years he had to quit due to a health problem. After he overcame that problem he made the decision to reenlist in the Navy.
"Returned to active duty at NAS Atlanta, GA on 1 August 1964. Transferred to NAS Alameda, CA. on 24 August 1968. Transferred to NARU, NAS, Point Mugu. CA on 6 October 1973. Transferred to VP-65, NAS Point Mugu, CA on 1 October 1975. Transferred to VP-90, NAS, Glenview, IL on 16 August 1976. Transferred to VA-205, NAS, Atlanta, GA. on 1 August 1979. Transferred to Fleet Reserve on 31 August 1980. Retired with 20 years service as AMCS, Senior Chief Petty Officer. Its been a great ride. I had no bad duty. It was all fantastic. Wish I could start another 20 today!"
After retiring from the Navy, Floyd was employed by Lockheed Martin, Marietta, Georgia until his retirement on July 31, 1990. After retirement Floyd spent his time restoring old cars, traveling, especially on the historic old Route 66, and most important his organization of the VW-1 Vanguard Association and the locating the Veterans of his old VW-1 Navy Squadron. As the Association President for many years he set up yearly reunions at various location through out the U.S. In his spare time he managed to write and publish two books. The first book was his Auto Biography and the second book is about his detailed account of his 2010 & 2011 trips across the US on historic old Route 66. In 2010 he drove his restored 1946 Ford Coupe across the US on the old Route 66 to duplicate his first trip on Route 66 in 1954 in his first car, a 1946 Ford Coupe. In 2011 he and Ethel drove their F-150 Pickup Truck across the US from St Louis to Los Angeles again on the old Route 66. Later that year they started from the beginning of Route 66 in Chicago and drove to St Louis, again on old Route 66. This book is an excellent Travel Guide for anyone traveling on the historic old Route 66.
Floyd will be missed by all who knew him, especially his old shipmates of VW-1. Floyd was buried with full Military Honors in the Payne Gap Cemetery at Ider, Alabama.
Floyd is survived by his wife of 58 years, Ethel Clarice Adkins Yancy, Daughters; Kerry Vitiello of Powder Springs, Ga., and Sherry Moore of Adairsville, Ga., Sons; Michael Yancy of Acworth, Ga., Alan Yancy of Powder Springs, Ga., and David Yancy of Acworth, Ga., Eight Grandchildren and two Great Grandchildren.
George E. Stewart
VW-1 Shipmate