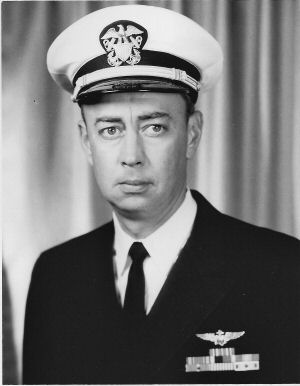 LCdr. Ernest Dale Ruff, Jr. USN Ret
Born January 2, 1927;
Died October 11, 2008
VW-1 1952 - 1953 and 1958 - 1960
Ernest was born Jan. 2, 1927, in Omaha, Neb., to Ernest "Blondy" and Esther Ruff. He was raised in Papillion, Nebraska. He always prided himself in being from Papillion whose population at the time was in the 700's. His Grandparents owned a farm about 8 miles from Papillion, in what is now known as Bellevue. He spent a lot of time on that farm while he was growing up.
While in high school he was employed at the Martin Marietta Bomber Plant where he quickly was promoted because he could read blueprints. The Martin Marietta Bomber Plant produced the well known Flying Box Car and the even better known, Enola Gay. He graduated from Papillion High School in 1943 and enlisted in the Navy on August 30, 1944. He had a Navy Recruiter that led him into the Navy's V-12 program at Doane College. He learned many of his life's lessons at Doane and built life long friendships. He held Doane College and his friends from the V-12 program in highest regards, often returning for reunions or various other programs.
In 1945, he attended Western Michigan University in Kalamazoo, Michigan and then went on to earned a Bachelor of Science Degree in Science from Northwestern University in Evanston, Illinois and was commissioned an Ensign on January 4, 1947.
Ernie's first Naval assignment, that was not education related, was as a Division Officer aboard a Destroyer Escort and an Aircraft Carrier. While on the destroyer, the entire city of Portland, ME. was without power and they were dispatched to hook up and provide power to the city for a length of time. The city was so grateful to the sailors that they made sure they had all of the lobster they could eat every day.
In 1948 Ernie was accepted as a student Naval Aviator in the Navy's NavCad Program. He was assigned to the Naval Aviation Training Command at NAS Pensacola, FL for Flight Training as a Naval Aviator. After receiving his Wings he was transferred to NAS Corpus Christi, TX, for multi-engine training and received his multi-engine rating in 1950. Later in 1950 he was assigned to Composite Squadron Eleven - Detachment (VC-11 Det) based at NAAS Miramar, San Diego, California. The Squadron flew the PB-1W (Modified B-17G's equipped with APS 20 Radar). Ernie was assigned as a CIC Officer and on occasion flew as a co-pilot.
During the first week of June 1952 the Detachment was transferred to NAS Barbers Point, Territory of Hawaii, where on June 18, 1952 the Detachment was Commissioned as Airborne Early Warning Squadron One (VW-1). In January 1953 Ernie was assigned to one of the three Flight Crews of VW-1 Detachment A to be deployed for service in Korea. The Detachment arrived at NAS Atsugi, Japan on February 14, 1953. Each day from Feb. 24 to March 25 one Aircraft from VW-1 Det A, operating out of NAS Atsugi, flew a 12-14 hour AEW mission in the area of Wonsan, North Korea in support of Navy Task Force 77. On March 11, 1953 Ernie's aircraft and crew were deployed on a special assignment to the First Marine Air Wing's Base K-3 (Pohang) South Korea. Operating out of K-3 they flew one or two missions a day along the 38th Parallel until March 20 when they returned to NAS Atsugi. The Detachment was released and returned to NAS Barbers Point, Hawaii on March 31, 1953.
Later in 1953 he was transferred to NAS Corpus Christi, TX. as an Instrument Flight Instructor at the US Naval All-Weather-Flight and Training School, Units of the Naval Air Advanced Training Command. There he instructed pilots in instrument flying of single-engine and multi-engine aircraft.
From 1956 to 1958 he was assigned to NAS Ford Island, at Pearl Harbor, as a Personnel Officer. One of his favorite memories of that time was the use of a Crash Boat in his duties as a Personnel Officer. Then from 1958 to 1960 he was again assigned to Airborne Early Warning Squadron One (VW-1), now based at NAS Agana, Guam, as Squadron Flight Training and Standardization Officer as well as a WV-2 Patrol Plane Commander.
After leaving VW-1 he became an Assistant Professor at Marquette University in Milwaukee, Wisconsin instructing students in navigation, nautical astronomy and naval operations.
In 1963 he was assigned as the Squadron Training Officer for Flight, Ground and Standardization Operations and as a Check Pilot in Airborne Early Warning Squadron Eleven (VW-11). VW-11 operated in the area of Iceland, Greenland, the United Kingdom and with logistic flights to Britain, Northern Europe and US East Coast Cities. In 1965 he was assigned as an Associate Professor at Purdue University, West Lafayette, Indiana, directing the administration of the Naval ROTC training program.
He retired from the Navy on April 1, 1967 as a Lieutenant Commander.
He began his second career with American Airlines in 1967 where he served as Manager of International and Navigational Training and MD-80 Ground School Supervisor. He retired from American Airlines in 1993 with 26 years of service.
In retirement Ernie volunteered at the Vintage Flying Museum in Fort Worth, TX and the American Airlines, CR Smith Museum in Fort Worth, TX. Ernie was still an active licensed pilot at the age of 81 which he was proud of. His wife Kimberly stated: "He belonged to many groups and organizations. He was building an RV-8 with one of his friends, loved to travel, and was fulfilling items on an ongoing bucket list. Ernie's love for life was contagious, he was so busy doing that, he never had time to grow old. Ernest D. Ruff Jr., 81, the finest man I have ever known, passed away Saturday, Oct. 11, 2008, in North Richland Hills, TX of pneumonia."
Survivors include his wife, Kimberly (Kim) Ruff of Keller; daughters, Nicole Crawford of Dallas, Deborah Marchmont of Belleville and Jodie Brown of Haltom City; sons, Ernest A. Ruff of Lumberton and Eric Ruff of Haltom City; stepdaughters, Alexis Kovalovich of Alamogordo, N.M., and Jillian Johnson of Omaha, Neb.; seven grandchildren; and two great-grandchildren.
Ernie was preceded in death by his first wife, Barbara; parents, Ernest Sr. and Esther Ruff; and sister, Shirley.
Written by Mrs. Kimberly Ruff with input from George Stewart (VC-11 Det/VW-1 Oct 1950-Nov.1955)