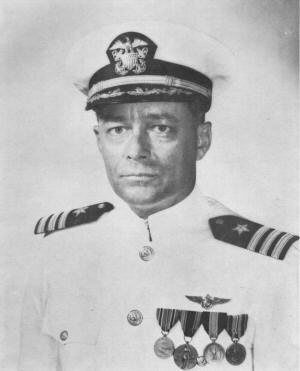 Born July 09 1920:
Died Feb. 12 2014;
12th Commanding Officer; of VW-1
June 1964 - July 1966
Folks, This past Sat. (Aug. 23 2014) Lucille and I attended a memorial service for Capt. Barton at the St. James Episcopal Church in Monkton, Md. Monkton is located 75 miles North of Wash. DC out in the boondocks. I am not sure I could have found it without a GPS. The Barton's Son, Charlie, is the Senior Pastor of this church and therefore the selection of a location. The Church may be the oldest Episcopal Church in Maryland back to at least the early 1800's. The town of Monkton does not even seem to exist since we did not see a post office, 7/11 or gas station. The Church sits alone along Monkton Road. There were about 75 of us in attendance, many of whom did not know the Skipper but were there to support their Pastor. However, importantly, MaryLee was there and all 4 of the Barton off springs. Their Son from Calif. was back for the first time since the Skipper died and I believe that is what prompted the service at this time. It was a touching Service with a Homily speaking of the Skippers life, beautiful organ music and a communion. At noon, we retreated across the lot to a newer, beautiful activity building for a reception with the Family and a luncheon. I introduced my self to their Kids as the representative on His Squadron VW1. The only other squadron mate that I know of being there was Ernie Racz. We really didn't remember each other and spoke only briefly. Mary Lee looked and seemed great (see attachment) and I am sure that this event helped her in the "closure" process. I have attached a few pictures. Lucille and I are shown with MaryLee and their daughter, Stephanie.
For Jim Galinsky, please feel free to forward this to the squadron.
Roland CREPS