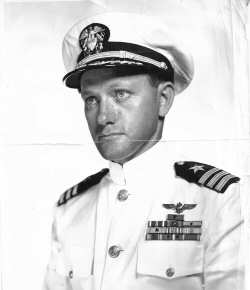 Born Aug. 27 1915: Died Jan. 2 2005;
First Commanding Officer of VW-1
June 1952 - July 1953
Fernald P. (Flip) Anderson, 89, a decorated Navy captain whose flying squadron amassed a distinguished World War II record, died January 2 of cardiac arrest at his home in Arlington.
Deployed to the Southwest Pacific from September 1943 to February 1944, Capt. Anderson held several leadership positions in VPB-33, a squadron that flew PBY-5 Catalina seaplanes referred to as "Black Cats" for their black non-reflective paint and the ability to attack Japanese strongholds and ships at night deep behind enemy lines. During September 1944 while Capt. Anderson was the Commanding Officer, VPB-33 sank or destroyed 103,500 tons of valuable enemy shipping and damaged an additional 53,000 tons. This was the highest one-month total achieved by any WW II flying unit. For this feat, the squadron received the Presidential Unit Citation and Capt. Anderson was awarded the Legion of Merit with Combat "V" It was also during this period that Captain Anderson earned personally the Distinguished Flying Cross for attacking and sinking a Japanese tanker and its escort despite intense antiaircraft fire damaging his aircraft.
A longtime Arlington resident, Fernald Philip Anderson was born in New Sweden, Maine. He was the first young man from this Swedish community in northern Maine to attend the U.S. Naval Academy graduating in 1939. For the next two years, Capt. Anderson served in the surface Navy as a gunnery officer. In September 1941, he was detached from the battleship, USS ARKANSAS, with orders to report to Naval Air Station, Pensacola, Florida, for flight training. Designated a Naval Aviator on May 8, 1942, Capt. Anderson was assigned to VP-33 as it was forming in Norfolk, Virginia. In August 1942, VP-33 was ordered to the Panama Canal Zone and participated in anti-submarine operations protecting the Panama Canal. For his conduct during this deployment, Capt. Anderson was awarded the Cross of Boyaca by the Government of Columbia. Now re-designated VPB-33, the squadron deployed to the Southwest Pacific via Hawaii and Australia in August 1943. The squadron participated in every campaign in this combat theater of operations until February 1945 following the liberation of the Philippines. In addition to the combat sorties deep into enemy territory, these operations included regular daytime patrols and rescue missions As reported in the 1992 book, "Black Cats with Wings of Gold" by A. J. Mueller, VPB-33 "became the most highly decorated squadron in the Pacific Area of Operations". The exploits of VPB-33 were the subject of a 1999 Birds of a Feather video production entitled "Black Cats" that has been aired on various cable television channels.
Following his return to the United States in March 1945, Capt. Anderson served in several aviation training assignments, most notably as Executive Officer, Naval Air Station, Brunswick, Maine. In February 1948 he reported for duty at Air (sic) Early Warning Squadron One (VPW 1), San Diego, California, as the Executive Officer. VPW 1 was the Navy's first dedicated land-based airborne early warning (AEW) squadron flying the Navy's variant of the Army Air Forces radar-equipped EB-17G or PB-1W. After a tour of shore duty at the Naval Research Laboratory, Washington, D.C., as Program Officer and Atomic Energy Commission Liaison, Capt. Anderson returned to flying in June 1952 when he became the first Commanding Officer of the new AEW Squadron One (VW-1). During Capt. Anderson's tour, VW-1 participated in combat operations in Korea and transitioned from the PB-1W to the Lockheed Constellation (WV-2) in December 1952.
Capt. Anderson returned to Washington, D. C., in July 1954 and was assigned to the staff of the Chief of Naval Operations. From August 1956 to July 1957, he was a student at the National War College, Fort Leslie J. McNair. After tours in Norfolk, Virginia, on the staff of the Commander, Naval Air Force, Atlantic Fleet, and Commander-in-Chief, NATO's Atlantic Command, Capt. Anderson returned to Washington when he was appointed the Director of the Navy's Astronautics Operations Division serving as the Navy's liaison with NASA's Project Mercury and the original 7 astronauts.. This office was instrumental in the early days of the U.S. space program. From 1962 to 1965, Capt. Anderson served on the staff of the Chairman, Joint Chiefs of Staff. On July 1, 1965, he retired from the Navy after 26 years commissioned service. Effective September 1, 1970, after working as a research and systems analyst with a defense contractor, Capt. Anderson was recalled to active duty as Director, Navy Council of Personnel Boards. In this position, he served also as the President, Navy Discharge Review Board and Navy Clemency and Parole Board. His duties were expanded in 1975 to include Director, Office of Naval Disability Evaluation. Retiring for the second time in 1976, Capt. Anderson was awarded his second Legion of Merit for his performance of duty during this period.
In retirement, finally, Capt. Anderson remained in Arlington, Virginia, where he was active in community and business affairs for many years. He was a deacon in the Memorial Baptist Church and was church clerk for 36 years. Capt. Anderson also was a member of the church choir and served as the interim choir director for a period during the 1970's. An active member of the Arlington Host Lions Club, he was also the secretary of U.S. Naval Academy Class of 1939 and served as class president from 1980 to 1986. Beginning in 1976, Capt. Anderson was a tax consultant affiliated with the Executive Tax Service of H & R Block. In 1981, he was appointed the Director of H & R Block's Premium Tax Service for Arlington, a post he held until 2002.
Capt. Anderson was very proud of his Swedish heritage. In 1959, he was awarded the Royal Order of the Sword (Knight Commander) by the King of Sweden in appreciation of services rendered as escort officer for Admiral Stig Ericsson, Commander-in-Chief, Royal Swedish Navy, during a visit to the United States in 1958. In addition, Capt. Anderson was deeply touched and honored when the citizen's committee from New Sweden, Maine, asked him to be the Grand Marshall in the community's centennial parade in 1970 as his grandfather was one of the founders of the town.
Survivors include his wife of 62 years, Carolyn R. Anderson, of Arlington; two sons, Philip R. Anderson M.D., of South Berwick, Maine, and Colonel William T. Anderson USMC (Ret.), of Casteau, Belgium; a sister, Enid Olivenbaum, of Clermont, Florida; and five grandchildren.