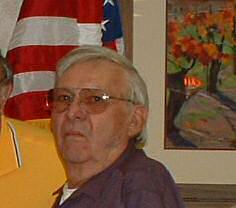 William (Bill) Jones ADRC USN Ret
Died Aug. 28, 2004
VW-1 1969 - 1971
Bill passed away at his home in Arizona; he was a retired US Navy veteran, he joined the Navy in January of 1953 and retired in July of 1974. The last several years of his Navy career was served on Guam with VW-1 as 1st flight engineer on TE-7 and the PMR at Pt. Mugu California as 1st flight engineer.
While on Guam Bill and his family lived in base housing on NAS Agana on "H" street and were neighbors of "Moon" Mullen's and family. They have remained friends all these years except for the time that Moon was the judge at Bill's CPO initiation.
After Bill retired from the Navy in 1974 he worked for 2 years at the PMR as a civilian, supervising contract aircraft refuelers. In 1976, Bill and his family moved to Muscatine Iowa where he worked 18 years for the Heinz Corp. maintaining and supervising repairs of equipment on the catsup production lines.
Bill retired from the Heinz Corp. in 1998 and moved to Arizona.
Bill and his wife Lou attended the 2002 Pensacola and the 2003 Reno reunions, where they shared their memories of Guam and VW-1 with their many friends.
Bill is survived by his wife Lou Jones of 51 years and their children, daughter Vicky Jones, and son Craig Jones who also reside in Arizona.