In October of 1998 we attended a VP-8 reunion in Myrtle Beach, SC. It was our first experience with a military reunion and we thoroughly enjoyed it, although we knew very few of the people. On the ride back to Florida we asked ourselves, "What outfit would we like to see have a reunion?" We both immediately responded ...
vw-1
Upon arriving home we went on-line and started searching, but to no avail. We could find no mention of any VW-1 group. So by December we decided to do something about it and placed a notice in the Naval Affairs magazine asking for anyone interested in a VW-1 reunion group to contact us. Eleven reunions later, and with a current membership of about 250, we are delighted with how our original idea developed. A good many of our members have come to us through this web site and we owe a debt of gratitude to Pete Wasmund, our webmaster for the excellent job he does in keeping it informative, interesting, and up-to-date.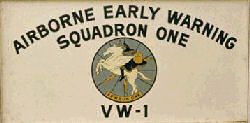 The very first check arrived on December 30, 1998 from Roy "Mack" Stotts from Groves, TX; followed the very next day by checks from two other Texans - Roy Eshom and Ernest Ruff. Guess those from the Lone Star State get right on it and get things done! The first week of January, 1999 brought ten more memberships and we were on our way.
On January 11th, Lee Thompson (Colorado) had joined our group and, through him, we became aware for the first time that there was another VW-1 group. The organizer was Bob Fuller (Texas) and it was primarily an officers group. A short while later we learned there was yet a third VW-1 group, run by Floyd Yancy (Georgia). We now had about 25 members and certainly didn't want to infringe on any other existing organizations, so we contacted both these gentlemen to ask if they would like to have the names of our members and have us join their existing organizations. Floyd explained to us that they were primarily an early '50's group that flew the Navy version of the B-17 and that they would prefer to stay small and specialized. Bob Fuller told us that his organization was primarily officers and that he would ask his membership what they would like to do. Upon polling his membership, their decision was to stay primarily officers. So we made the decision to continue on with our own association and make it available to all, regardless of rank, rate or years on board. As it has turned out, many of our members have opted for dual membership and belong to a couple of the VW-1 Associations. The existence of these other groups has led to confusion on some occasions. To alleviate this problem, Floyd changed his group's name to "VW-1 Vanguard" and as of September 2003, we are now the "VW-1 All Hands Alumni Association".
Our first reunion in Branson, MO turned out to be a real learning experience for us novice reunion planners. One: we discovered three nights were not enough, and have since always had the reunions be four nights. Two: the memorabilia table was a huge success and we needed to encourage members to bring their stuff to the reunions and make sure we had room to display it. Three: the meeting room had to be larger and a permanent, part of any reunion in the future, as the attendees made it clear they enjoyed just hanging around the meeting room a lot of the time, rather than attending an abundance of outside activities. All three of those lessons continue to be observed at all our reunions, along with a Lesson #4, which is that every event is casual. We do not dress up, no formal events, but keep it simple… and comfortable.
Over the years we have been asked "Do the wives' come?" At our most recent reunion in Colorado Springs, CO, a couple had signed up only for Monday, registration day. Once they had been there about an hour, the wife kept coming to the registration table to find out what else we would be doing over the following three days. Upon learning of the additional activities, she promptly brought her husband back and had him register for everything except the local tours. She was in that meeting room every day and it was obvious she had a delightful time. She has promised to come to Orlando, FL to our next reunion in the winter/spring of 2010. The wives participate fully – they have a vote – it matters not if they were a part of the VW-1 experience or not. They are with their men – here and now – and sharing something very special. We have been told of a member saying he didn't know if he was going to the upcoming reunion and the WIFE declared, "We're going!"
We are proud to say that we had three widows attend our reunion in Reno. Our policy is that all widows remain on our roster and dues are waived. They expressed great appreciation to be able to come and to hear and share sea stories about their husbands.
One of the most rewarding – and surprising – aspects of our reunion group has been the impact it has had for some ex-shipmates. We have been contacted by several individuals looking for proof that they were "in-country" so that they could receive disability status due to exposure to Agent Orange. By networking through both the web site and our Tracker newsletter, our members have responded with buddy letters and copies of deployment orders that provided the necessary proof to make it happen.
Attendance at our last few reunions has been between 85 to 120 people. We have visited Branson, MO; San Antonio, TX; Pensacola, FL; Myrtle Beach, SC; Reno, NV; San Diego, CA; Colorado Springs, CO; Orlando, FL; Branson, MO (2nd time) Tucson AZ; Williamsburg VA; Albuquerque, NM. and are now making plans for Branson MO. in the April of 2019. Since VW-1 ceased to be in 1971, we are aware that our group will age and finally cease to be …. BUT, in the meantime, we intend to TREASURE each opportunity to get together and ENJOY our VW-1 FAMILY. With that in mind, all our VW-1 members, invite you to enjoy our web site and, hopefully, join our association.