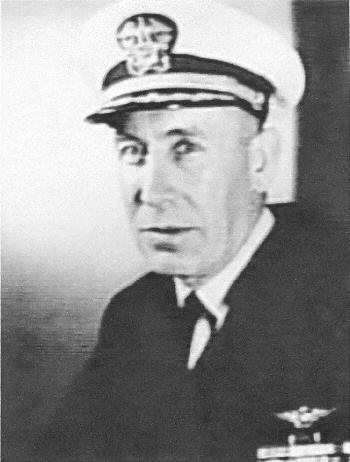 Allen L. Trecartin CDR USN Ret
Born August 29th 1921;
Died May 4th 2010
VW-1 1952-1955
CDR, Allen L. Trecartin, USN (Ret.), Passed away May 4, 2010 in Imperial Beach, California at age 88 of Alzheimer's. CDR. Trecartin was a WWII and Korean War Veteran. Allen was born in Hamden CT, on August 29, 1921. In January 1943 he enlisted in the U.S. Navy and entered the Navy flight training program at New Haven, CT. He completed flight training at NAS Pensacola, FL. and HAS Corpus Christi, TX., where in 1944 he received his Commission and Naval Aviator Wings. During WWII, he served on the battleship USS New Jersey BB-62 in the Pacific Theater. In December 1952 Allen, then a Lieutenant, was assigned to the Airborne Early Warning Squadron One (VW-1) based at NAS Barbers Point, Territory of Hawaii as a CIC Officer and Pilot. In February and March of 1953, as a Flight Crew Member of VW-1 Detachment 'Able,' he was deployed to NAS Atsugi Japan where he participated in missions over North Korea in the area of Wonson. For eight days in March Allen's aircraft and crew operated out of the Marine Air Base 'K3' near Pohang South Korea on missions along the 38th parallel. Over the next two years there were other deployments to Atsugi and Okinawa. After leaving VW-1 in June 1955 he was assigned to NAS South Weymouth, Massachusetts and then to NAS Minneapolis, Minnesota. Allen was a naval aviator of 20 years, retiring in June 1963 with the rank of Commander.
In 1943, while stationed in Olathe KS, he met his wife Mary Louise Meinsen. They were married on March 23, 1946. Together they traveled to many duty stations around the country, including TX, FL, IL, MA, HI, and MN, he always looked forward to each new duty assignment. Three daughters were born to Allen and Mary Louise during this time.
After his retirement from the Navy, Allen and his Wife continued to travel, living in AZ, Coronado, CA and Ventura, CA where he was the Director of the Ventura Visitors and Convention Bureau. Allen was also on the Board of Directors at the Ventura County Historical society. After he retired from the Director's position in 1983, they continued to travel, visiting many other countries, including 2 around-the world trips. In every community they lived they were actively involved in the Methodist (or Presbyterian) Church, and community activities. Throughout his life, he enjoyed baseball, especially the Boston Red Sox and San Diego Padres, Fishing, Gardening and the outdoors. In 2003, they returned to Coronado, CA. His Wife of 58 years passed away shortly after they moved to Coronado on July 14, 2004. Commander Trecartin will be buried with full military honors at Beaverdale Memorial Park, Hamden, CT, at the side of his Wife Mary Louise.
Surviving are his three Daughters, Connie Trecartin of Tucson, AZ, Karen Trecartin of Coronado, CA and Stephanie Trecartin Reyes of Visalia, CA. .
by George E. Stewart VW-1 1952 - 1955
Ref: US Navy Memorial Foundation "NAVYLOG"
Obituary-Humphrey Mortuary, Chula Vista, CA.