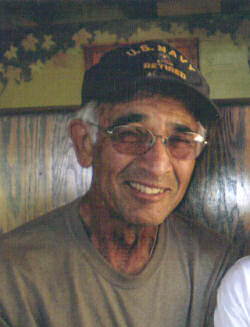 Taco Hernandez ADR-1 USN Ret
Born April 29 1940;
Died September 29 2012;
VW-1 1962-1964;
Richard (Pete) (Taco) Hernandez Born April 29 1940, passed away on September 29 2012 at 11:23 pm At Home Peacefully surrounded by Family From a long three and a half years battle with LIVER Cancer.
He served 20 Years in the NAVY as a Flight Engineer on the EC-121 aircraft, Who loved airplanes and flying. He was a kind and loving person, who would help anyone even if he did not know them.
He received Vietnam Service, Vietnam Campaign, and Expert Pistol Medals. Several Good Conduct Awards and a Meritorious Unit Commendation.
He is survived by Two Brothers and One Sister, One Son, Two Daughters, also One Adopted Daughter, 15 Grand Children, 8 Great Grand Children and his faithful dog Lil Miss, Plus Maryann Sanford his Significant Other and her Family with whom he lived. He will be missed greatly.
His funeral is October 10 2012, 2:30pm at Fort Rosecrans National Cemetery.
Memorial comments
One of my fondest memories of Pete was in 1973 while stationed at Pt. Mugu. He bought a used Volkswagon beetle in Santa Barbara that would not run, so he asked me to take his MG sports car up to Santa Barbara and tow the Volkswagon with a 25 ft. hay rope down the Ventura Freeway at speeds up to 75 mph. Pete was in the VW with a grin from ear to ear as we drove to Camarillo, cutting in and out of traffic. Unbelievably there was not one highway patrolman on the road to stop us. Pete did all of his steering of the VW with a pair of vice-grips for a steering wheel......Uncle Sam's sailors are definitely invincible.
Gary Oulman VW-1 64-66
Pete served with me in VW-1, AEWBARRONPAC, and PMR. He retired from the Navy as an ADR-1, but because of his activities in support of the navy during his retirement, the Command Master Chief from North Island Came to his home and made him an Honorary Chief and pinned his anchors on him in his sick bed.
Pete joined the Navy in 1958 and went to ADR 'A' school in Millington Tenn. He attended Flight Engineers ground school in Hawaii, and took his flight training in VW-1 in 1962. Pete touched the hearts of all who knew him.
He was my friend
Tom Hoover VW-1 58-59, 61-62