CAT LITTER CAKE
On a recent visit to our veterinarian to get shots for our cat I found this receipe on the waiting room bulletin board. After recovering from hysterical laughter-I obtained a copy from the office staff so that my wife could make it, which she refused to do. I took it to work and gave the receipe to a lady at work who loves cats. The pictures below show the results of her work, which looks like S#%* but it's actually quite tasty, so I decided to pass it along.


Ingredients
1 box spice or German chocolate cake mix
1 box of white cake mix
1 package white sandwich cookies
1 large package vanilla instant pudding mix
A few drops green food coloring
12 small Tootsie Rolls or equivalent
SERVING "DISHES AND UTENSILS"
1 NEW cat-litter box
1 NEW cat-litter box liner
1 NEW pooper scooper
Instructions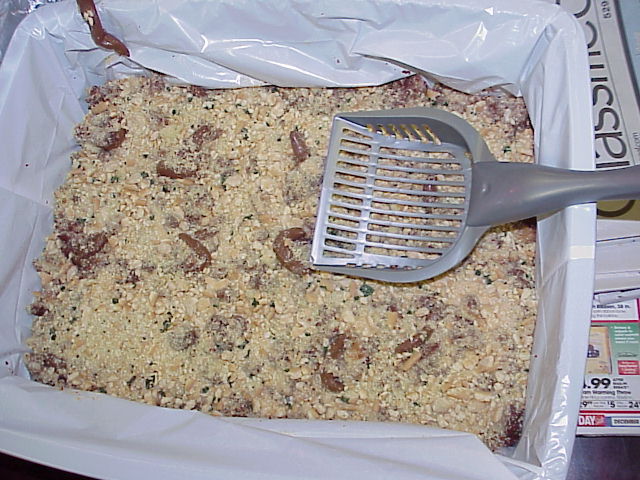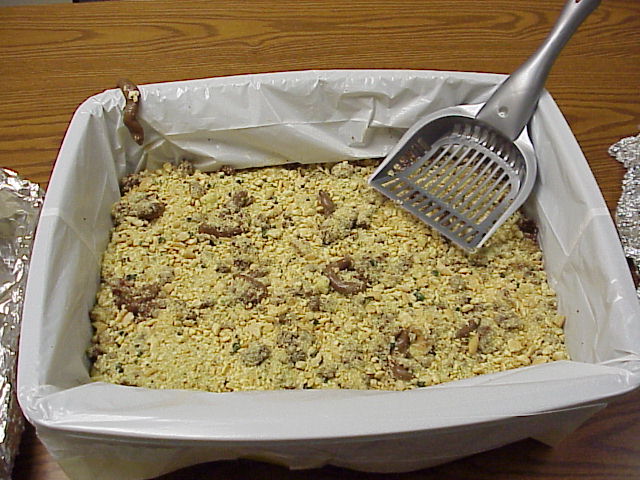 Taro Tips
Helen Ray
Ingredients
6 cups of water 24 Taro leaves. (good with spinach or broccoli instead of taro)
1½ Cup thick coconut oil
1 Cup thin coconut oil
1 Large tomato chopped
1 Tablespoon grated fresh yellow ginger
1 Clove chopped garlic
1 Medium onion sliced
1 Lime or Lemon (3 to 4 tablespoons juice)
Salt to taste
Red hot pepper (optional)
Instructions
RECIPE for Pancit
Helen Ray
Ingredients
1½ cups of water
3 Pork chops
1 carrot
1 Bell pepper
4 stems celery
1 4½ ounce can shrimp
1 8 ounce package bijon (pancit noodles)
1 Large onion
3 Cloves garlic
3 tablespoons soy sauce salt and pepper to taste
2 tablespoons salad oil
1 Teaspoon monosodium glutamate.
Instructions
RECIPE for pork lumpia frito.
Helen Ray
Ingredients
1 pound of both pork and shrimp
½ cup chopped apulid (or water chestnut)
2 Egg yolks
30 lumpia wrappers
3 Tablespoons chopped mushrooms
3 Tablespoons chopped onion and sliced chives
Instructions
Sweet and Sour sauce Instructions
RECIPE for Lumpia
Dottie Wasmund as given by Dale Coughran circa 1961.
As Dale's family used in the P.I.
Wrapper Ingredients
Water & flour
Instructions
Filling Ingredients
½ cup onion.
2 - 3 garlic cloves
1 cup diced pork and/or chicken.
Water
2 tablespoons of soy sauce.
1 can bean sprouts (drained).
1 stalk of celery. (slivered)
1 grated carrot.
½ - 1 package french green beans.
6 minced shrimp.
1/3 cup finely cut cabbage.
Salt, Pepper, dash of accent.
Instructions
Sauce Ingredients
6 tablespoons of lemon juice.
½ cup of water,
6 tablespoons sugar
1 tablespoons of cornstarch.
2 tablespoons of worchestershire sauce,
2 tablespoons of catsup
1 tablespoons of chopped red pepper or pimento.
Instructions
Bringing it together:
RECIPE for pork adobo.
Helen Ray
Ingredients
2 - 3 pounds of pork cut into bite size chunks
6 - 10 garlic cloves (crushed and, with the skin removed)
1 Large bay leaf
2 Tablespoons of soy sauce
½ cup of white cider vinegar
2½ cups of water
cornstarch
Instructions
RECIPE for Teriyaki Rice and Surimi Salad.
Helen Ray
Ingredients
¼ cup light soy sauces
¼ cup dark brown sugar
1 teaspoon molasses.
½ teaspoon grated ginger root.
½ teaspoon cornstarch
1 tablespoon of water
4 cups cooked white rice, cooled.
¼ pound snow peas, trimmed, blanched and cooled**
4 scallions, chopped.
1 teaspoon sesame oil.
10 ounces crab-flavored surimi chunks cut into ½inch pieces ( 1½ cups)
½ red bell pepper, diced. 2 tablespoons toasted seasame seeds.##
Instructions
** To blanch the peas: Place the peas in boiling water and cook just until they turn bright green. Drain and cool immediately in cold water. You can substitute frozen snow peas that have been thawed.
## To toast sesame seeds: Place seeds in a skillet over medium heat, tossing the pan often to turn the seeds. Cook until golden. The seens burn quickly so be sure to keep an eye on them.
Mr Deans Beans.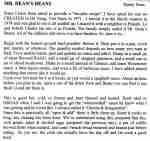 George Dean's receipe (Mr Deans Beans) that he made up while in Da-Nang in 1971. Click on picture to enlarge.
Double Chocolate Cookies (Recipe may be halved)
???
Ingredients
2 cups butter
24 oz. chocolate chips
4 cups flour
2 cups brown sugar
2 tsp. (Bicarb) soda
1 tsp. salt (or to taste)
2 cups sugar
18 oz Hershey Bar (grated). Keep Hershey Bars cold while grating, it will shave easier.
5 cups blended oatmeal
4 eggs
2 tsp. baking powder
2 tsp.. vanilla essence
3 cups chopped nuts (optional) Suggest half pecans and half walnuts.
Instructions
RECIPE for Breakfast Pizza.
George Dean
Ingredients
2 pkg. (8 oz) refrigerated crescant rolls
1 lb. BULK sausage
1/3 cup chopped onion
1 small green pepper, chopped
1 envelope COUNTRY gravy mix
6 eggs
2 tbsp milk
1½ tsp salt
¼ tsp pepper
1 Tbsp butter
1 ¼ cups sliced mushrooms (I'm allergic so I used chopped black olives)
2 cups shredded cheddar cheese ( I like the SHARP)
1 cup (4 0z) shredded pepper jack cheese
Instructions
RECIPE for GRITWURST
(SAUSAGE from the old country).
Marcia Wasmund via Marion Wasmund via Alida Wasmund
Ingredients
8 Lbs. Rolled Pork Roast
1 Lb. Liver
4 Lbs. Steel Cut Oats
5 tbsp. Salt
4 tbsp. Majorum
4 tbsp. Thyme
4 Large Onions
Pepper
Makes APPROXIMATELY 12 PANS
Instructions
BUDS BEAN POT
Lois and Bud Horn
Ingredients
16oz. package dry Great Northern beans
1 cup chopped celery, include some leaf tops
1 medium size onion, chopped
2 or 3 dashes of the following condiments:
crushed red pepper
ground red pepper
garlic powder
celery seed
1 tablespoon virgin olive oil
salt and pepper to taste
Instructions
Rinse beans, drain In a saucepan, add beans and cover with 2 inches of water. Bring to a boil for 1 minute, turn off heat and let stand for a few minutes. Remove from heat and drain into a colander. In a crock pot add beans, cover with 2-3 inches of fresh water. Add remaining ingredients. Stir. Slow cook on low setting for 6-7 hours or until tender.
Serves 6-8