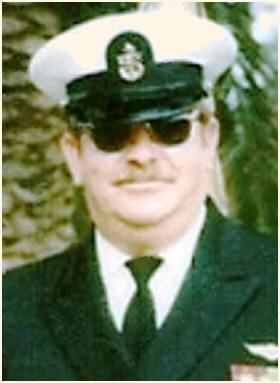 Mackey Ray Morris adr1/adrc(ret.)
Born: April 22, 1939
Died October 24, 2012
VW-1: Sep 1967 - Aug 1968
N. CHARLESTON - Mackey Ray Morris of N. Charleston, SC, departed this life on Wednesday, October 24, 2012. He was born on April 22, 1939 in Auburn, GA, and was the son of Lester C. and Hester J. Morris.
Mackey was preceded in death by his parents and his brothers, Bill and Fred; and sister, Kloma Brooks. He is survived by his wife of 35 years, Alma E. (Liz) Morris; three daughters: Mrs. Gee Gee (Billy) Ross of Canonsburg, PA; Mrs. Sherry (Tony) Reis of Keenesburg, CO; Ms. Ronnisue Morris of Antioch, CA; six grandchildren, three great grandchildren, four nieces and one nephew.
Mackey, a Vietnam Veteran, served in the U.S. Navy for 26 years and retired as a CHIEF AVIATION MACHINIST'S MATE on October 31, 1980. During his years of Naval service he was assigned many varied duties and served with a wide variety of sea and shore commands. In addition, he partnered with two separate Department of Defense contractors to develop improved systems and maintenance procedures for increased reliability of Naval Aviation equipment. Mackey was a member of the Fleet Reserve Association, Branch 50, Charleston, SC. After retiring from the Navy, he owned and operated Morris Appliance Service for 32 years.
Mackey will forever be remembered for his love of family, loyalty to his friends, his unique sense of humor and his willingness to help others, even after battling lung cancer in 2007-2008.
Military honors will be held at 1:00 p.m., Saturday, November 10, 2012, at Carolina Memorial Gardens, 7113 Rivers Avenue, North Charleston SC. Immediately following the military honors, a "Celebration of Life" for friends and family will be held at the First Southern Methodist Church, 1301 Remount Road, North Charleston, SC.
In lieu of flowers, the family requests donations be made to help with funeral expenses. Donations may be mailed to Alma E. Morris, PO Box 61683, Charleston SC 29419.
Published in The Post & Courier, Charleston, SC, Wednesday, November 7, 2012. SC.
Burial: Cremains were committed to the sea in the Central Atlantic Ocean at a latitude of 30 degrees, 34.9 minutes North and a longitude of 042 degrees, 58.5 minutes West from the USS KEARSARGE (LHD 3) on 19 March 2013 at 0730.
Condolence & Memory Journal
Scarlette & Ricky Davis - Edisto Beach, SC - Niece & Nephew
Liz, we love you and will miss Uncle Mackey. Stay strong. Our prayers are with you. Love..

Debbie Channell - Athens, GA - Niece
He tried to knock the Georgia red dirt off his feet but he will always be my "Georgia Redneck". My friend, my confidant, call it like it is, saying "well, hello darlin" when you got what he said Uncle - I will miss you so much! To my family ... love you all so much!
Louise "Morris" McDowell - Flowery Branch, GA - First Cousin
To me as a child he was and will always be Mackey Ray. Before he joined the Navy, Usually on Sundays we would come to visit your Mom and Dad, your Dad being my Daddy's oldest brother, and have Sunday dinner your Mom could cook, serve a great meal, some things we never forget, the 1950's. One day you took me with you to the store, not far from your house, you bought me a Jelly Roll, to this day I still remember that, the store building is still there but not open any more, but to me it is forever open. For many years we had no contact, my Mom passed, I really had no close Family on Daddy's side, so I started searching, I found you and Kloma, it was Christmas maybe 2006, and that was a great beginning for us, Kloma You & Me. I will always cherish you in my heart and keep in touch with Liz, and the rest of your Family. Do wish we'd had more time together. My love, prayers and tears I send to you all.
Mary & Tommy Garrick - N. Charleston, SC - Friends & Neighbors
Your friends and neighbors of Evanston Estates Civic Club are thinking of you and keeping you in their prayers. A donation will be made from the Evanston Estates Civic Club to help with funeral expenses.
Jimmy & Evlyne Ortiz - N. Charleston, SC - Friends & Neighbors
It is still hard to believe that Mackey is gone. He really loved to think he was getting the best of me. We are here always for you Liz. I know your heart is heavy now but time will smooth your hurt and you will be able to remember all the good years that you two shared together. Love.,
Milo & Shirley Fuller - N. Charleston, SC - Friends & Neighbors
Dear Friend: Mackey was, truly, one of the good guys we meet along life's path. And, we're saddened that we all have lost him. May your heart be forever warmed by memories of the good times and the good years. With affection.
Ken Smith - Cartersville, GA - Friend
There are few people a person will come across in life that there is a automatic kinship formed, that views of life, politics, morals, and ethics, meld and match ... but that is exactly the way Mackey and I were. He was my sail in bad seas and my life preserver in perilous times, a sounding board, a crutch. He represented the integrity and tenacity of a by-gone era of our military and one I will always miss and think of as I endure the quiet times of reflection. God be with you my friend and your beloved family.