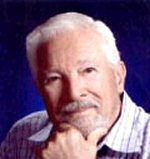 Lawrence D. (Spanky) Spangenberg, ALAN/AL3 ATC(r)
Born Feb. 11, 1932
Died June 9, 2012
USN July 1950 - August 1975
VW-1 June 18, 1952 - June 1, 1953
Lawrence "Spanky" Spangenberg ATC, USN Retired. Passed away in Walnut Creek on June 9, 2012 at the age of 80, a resident of Concord, California. He was born in Nashville, TN to Marshall and Evelyn Spangenberg on February 11, 1932."Spanky" enlisted in the United States Navy in July 1950. His first duty station was VC-11 Detachment at NAAS Miramar, San Diego California. In June 1952 he was transferred to Hawaii where he became a Plank Owner of the newly Commissioned Squadron VW-1. In 1953 he saw duty in Korea with VW-1 Det. "A" and later with VP-6 and VAQ-308 served his country during the Vietnam War. He retired from the Navy in August 1975 as an ATC Chief Petty Officer.
After retirement from the US Navy he worked at Lawrence Livermore Lab from 1977 to 1993. He was a scoutmaster with The Boy Scouts of America and loved to backpack and mentor young Scouts. He was a member of the German Genealogical Society in Sacramento and was an avid cyclist with the Valley Spokesman Bicycle Club in Dublin. He was a member of Bethel Baptist Church in Concord where he served many years as a Deacon. Two of his favorite places to eat were Boston Market and Fuddruckers and they loved him. He loved the Lord and his family; getting together for holidays, birthdays and Sunday suppers was very important to him. Spanky will be missed by all who knew him.
Larry is survived by his wife, Wanda; children: Larry, Ed (Faith), Glynn (Lisa) and Patti (Hudson); siblings Marsi, Karen, Phillip and ten grandchildren. Larry is also survived by his former daughter-in-law, Donna and son-in-law, Tim. Larry was preceded in death by his parents, his brother Ted and a sister, Doris.
Interment will be in Sacramento Valley national Cemetery, Dixon, CA.