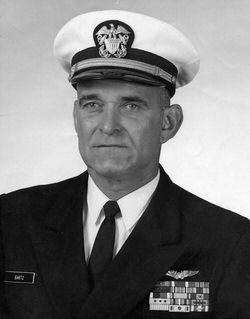 Harry A. Bartz
Died November 21, 2015
VW-1 1964-1967
Graveside services for LCDR Harry Bartz will be held Wednesday, November 25, 2015, at 12:00 p.m., at Mississippi Veterans Cemetery, with Brothers Mike Russell and John Sweeney officiating.
Mr. Bartz, 86, passed away on November 21 at Rush Hospital. Mr. Bartz proudly served in the U.S. Navy, enlisting in 1946 to join in the rebuilding efforts after WWII. He joined as a Seaman and eventually moved through the Naval Ranks to be deep selected for Officer Candidate School, which he completed in 1964.
He served as a Naval Flight Officer and Meteorologist, among other duties, and retired as a LCDR after 29 years of service. He served in both the Korean and Vietnam Conflicts. While fighting in the Korean Conflict, he survived an ocean plane crash and also saved his pilot's life.
For this brave act, he received the Navy Commendation Medal. He also spent eighteen years as a Lauderdale County sheriff's deputy. He was a lifetime member of the VFW and American Legion Post 21, where at one time he was a commander.
He is survived by his wife, Vicki; children, Jeanette (Greg) Hunter, Kathy (Bernard) Caraco, Tracey G. Rainer, Candi K. Harbin and Mike, and Honnette Lunski; numerous grandchildren and great-grandchildren, whom he dearly loved, as well as his beloved dog, Angel.
Family and friends may sign the online guestbook at robertbarhamffh.com. Visitation will be held from 10:00am-11:00 a.m. prior to service at Robert Barham Family Funeral Home.
Memorial comments
Mr. Bartz's first tour of duty as a Naval Officer was with VW-1. His prior Enlisted service as an Air Traffic Control Man gave him invaluable experience in his duties as a CICO (Combat Information Control Offier). One of his peers commented that Mr. Bartz was "One of the best and trained several other young officers".