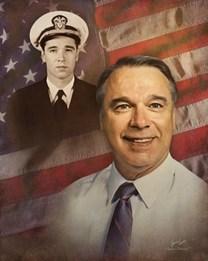 LCDR Gordon Franklin Pine
Born February 6, 1932;
Died May, 18, 2012;
VW-1 54 - 57;
LCDR Gordon Franklin Pine, 80, passed away peacefully May, 18, 2012 in Louisville. He battled multiple myeloma for eight years and was treated at the Multiple Myeloma Institute in Little Rock, AR.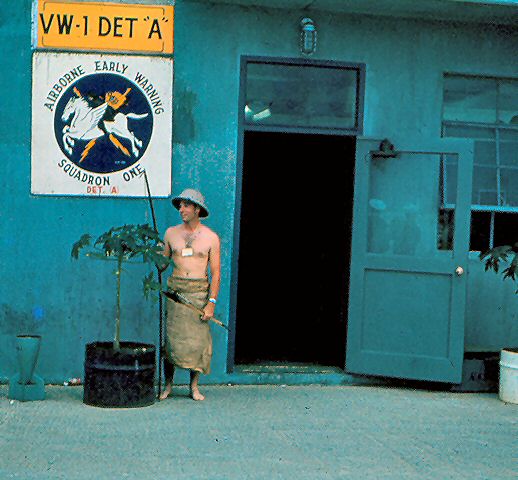 NAS Cubi Point, Philippines 1956, LTJG Gordon Pine, dressed up like a Philippine IGROT native, with Navy issue hat and the SDO (Squadron Duty Officer) tag on a string, greets the arrival of a replacement aircraft and crew from NAS Barbers' Point Hawaii.
Gordon said the gunny sack/covering was quite scratchy.
Photo Dan Ragan
Gordon was born February 6, 1932 in Muscatine, IA, the son of Floyd and Ruth Stone Pine Bancroft and grew up in Columbus Junction, IA. He graduated in 1950 from Phoenix East High School, Phoenix, AZ and received an associate degree in business from Phoenix Junior College.
In 1952, he entered the US Naval Aviation School, Pensacola, FL receiving his "wings of gold" in 1954 and was commissioned an Ensign in the Navy. Gordon's father taught him to fly at age 14. He loved to fly and flew several types of Navy multi-engine aircraft, including the C121 Super Constellation aircraft in Vietnam in 1968. He was a flag pilot for several Admirals in Brazil and England.
Gordon was a positive person with a curious mind and a keen sense of humor. He was very good at planning and carrying that plan through and he was an excellent handyman who could fix almost anything.
Gordon retired from the Navy in 1973 changing Navy careers to teach Navy Junior ROTC at Stuart, Valley, and Butler High Schools for 16 years. He proudly wore the Navy uniform for 40 years. He received his BA degree in Economics from the University of Maryland and a Masters in Counseling from Spalding University in Louisville.
He leaves behind to cherish his memory, his devoted wife, Pauline Smith Pine and three children: Brenda Hatfield (Mark), and David Pine of Louisville, and Carla Austin (Edward) of Atlanta, GA; Grandchildren, Cortney Austin Morris (Mike), Chloe and Logan, Atlanta, GA; Rebecca Austin Stumpf ( Mathew) of Calabasa, CA; Laura and Kathryn Austin of Atlanta, GA; Jacob and Jessica Hatfield of Louisville; Brothers, David F. Pine (Barbara) of Gig Harbor, WA; David Bancroft (Susie) of Tucson, AZ; two nieces and three nephews. He was preceded in death by his parents, and by one infant sister.
A celebration of life service will be held at Arch L. Heady at Resthaven Funeral Home, 4400 Bardstown Road on Friday, May 25 at noon in the funeral home chapel. Visitation will be from 4:00-8:00 P.M. Thursday at the funeral home. Interment will be at Resthaven Memorial Park.
The family requests that memorial gifts can be made to the Multiple Myeloma Institute, 4301 W. Markham St., #890, Little Rock, AR 72205 or the Leukemia and Lymphoma Society, 600 E. Main Street, Louisville, KY 40202.