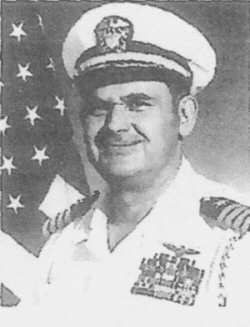 Captain Marvin L. Duke USN(ret)
Born May 18, 1927;
Died January 9, 2002
VW-1 1969-1970 as the 16th CO.
Captain Marvin L. Duke, USN (Ret.) a resident of Honolulu, HI died on 9 January 2002 of Cardiopulmonary failure. He was 74 years old..
Born on 18 May 1927 in St. Louis, MO. Marv enlisted in the Navy in 1945 and won a fleet appointment to the Academy. Upon graduation, he was flown out to Sicily during the Korean War. Subsequent orders sent him to Pensacola FL. and after winning his wings, he was sent to VW-2 at Patuxent River.
In 1956, Marv earned a bachelor's degree in aeronautical engineering at the Naval Postgraduate School and received a master's in nuclear engineering at Iowa State University. Sea duty followed on Yorktown and later a tour in VQ-1 at Atsugi. He returned to the Naval Academy as a physics professor followed by a stint at the Naval War College.
A mandatory tour in Washington, DC, enabled Marv to earn another master's degree in international affairs at the George Washington University. A second assignment to VQ-1 had Marv going to Vietnam twice, fleeting up to XO and later assuming command of VW-1 at Guam. Marv was then selected to be the defense attaché at Guam. Marv was then selected to be the defense attaché in Tokyo. He was directly responsible for coordinating the evacuation of the Soviet MiG-25 fighter pilot who flew his aircraft from the former Soviet Union to Japan and requested political asylum in 1976. for his services in interrogating the pilot and overseeing the complete disassembly of the jet, he received a commendation from them-CIA director, George Bush. He also received one of Japan's highest honors-- the Order of the Sacred Treasure from Emperor Hirohito in 1978 for his efforts over the years to promote friendly relations between the United States and Japan.
Marv's last active duty tour was as Chief of Staff in the Trust Territories in Micronesia. Marv completed his doctorate at the International Institute of Advanced Studies in 1979. Marv retired to Florida and worked with Boeing Services on the first space shuttle program in 1980.
Martin Marietta poached him for their Denver operations and promoted him to senior vice president responsible for all their interests throughtout Asia for more than a decade in Toyko.
Marv is survived by his wife of 47 years, Judith; three sons, Lawrence in Taiwan. Michael in Ireland, and Andrew in England; and his brother Edward.
Internment was at the Hawaii State Verterans Cemetary with full military honors.